Happy Sunday! We have something nice you can already use in your planning for the coming week. Now Swydo has Calendar integration. This is a really cool new feature and its easy to use.
How it works!
Step 1
Just click on the little icon in your task list: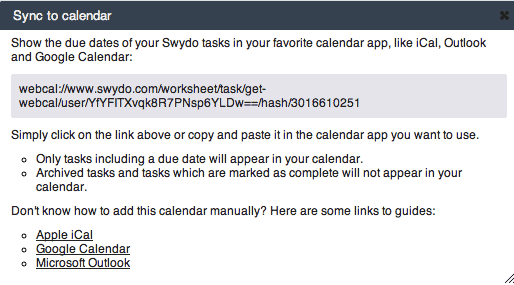 Step 2
Then you see a pop up:Right click the URL and copy it. Go to you email client and add the calendar throught the URL. In Google calendar, as an example, you click in Google Calendar on "Add by URL" and past the URL from Swydo. That's it! Your Swydo tasks now appear as tasks/events in you Calendar. Next you can optionally configure to receive notifications etc. in your Calendar app.

Another really cool feature from Swydo and a next step towards becoming the default getting things done app for online marketers worldwide.
Integrate Your Swydo tasks in your Calendar.
Best regards from the Swydo team and have a very nice and productive week.