Swydo was an exhibit Sponsor at heroconf 2013 , organized by the good people from Hanapin Marketing, the driving force behind the popular ppchero blog. Heroconf is a specialized conference dedicated to PPC people only. There were app. 240 attendees. The conference was very well organized, including lots of fun, drinks, food and a perfect location.
Other attendees have already given very good recaps on the most important announcements and insights given/made by a super good line up, including Bing, Google, Matt van Wagner, Marc Poirier and many others. Read here .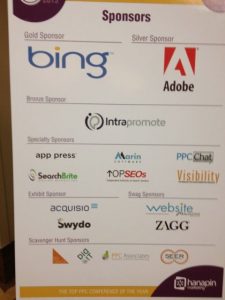 Next to all the great content a take away for us was the fact the a specialized conference had many advantages over a more broad targeted conference:
The key note speakers were performing in boost modus, because they know this audience has already a good knowledge about what's going on in this industry.
The break out sessions can go way deeper because the audience is much more savvy .
The questions answered by the audience has more value to others and even inspire the speakers.
During social events you can really have good discussions with others about the keynotes and break out sessions.
Because of the relatively limited size it's more easy to socialize and get to speak that person that you always wanted to speak.
For a sponsor/exhibitor (and PPC specialist that we are ourselves) the attendees are spot on. We provide a reporting and workflow suite for PPC people and that's what they are!
Of course broader matched (notice it PPC people?) conferences are great for getting inspiration, getting other insights, but the advantages of a dedicated conference was really a take away for us.
Update: see for all presentations this link.
Thanks Hanapin and see you all next time.
Jeroen Maljers