Since 2008, the International Search Summit (ISS) team has produced almost 50 events in Europe and North America specifically focused on the challenges of international digital marketing. We asked event manager Gemma Houghton to fill us in on the background and mission of ISS, how the event evolves to meet the needs of marketers, and what attendees can expect to experience and learn.
What was behind your decision to launch the International Search Summit (ISS) series?
There are some very specific challenges when it comes to running search campaigns and managing websites internationally, and we felt they didn't get the attention they deserved at most conferences. We saw a gap to create an event which would be tailored to those marketers working globally and dive deep into factors like culture, language, processes and geo-targeting, which really impact global success. In 2010, we began working with Search Marketing Expo (SMX) which has continued to be a great partnership and enable those events to add an international dimension their content.
Your events have a specific focus on international digital marketing. Why do you think that's so important it requires a series of dedicated events?
International isn't interesting to everyone, so it's understandable that many conferences don't really cover it too much, however for those working on international projects and websites, they really need the in-depth and specialist knowledge ISS provides. For example, nearly all of the conference presentations I hear are about how to do things in Google. Google is, of course, very important internationally but so are Yandex, Baidu and Naver – and it's this kind of niche topic that ISS can really explore further.
Have you seen any change in the types of content attendees are looking for now compared to the early years of the conference?
There are some topics which are staples at the event, for example geo-targeting. This is something that is fundamental to international success and is also very challenging to get right. Equally, every year there are hot topics people want to know about – this year voice search for example is a big one – so there is a spread between these kind of sessions. However, the key thing attendees want is practical advice, things they can actually implement as soon as they are back in the office – and that has always been the case, and I imagine will continue to be so.
You run several conference throughout the year in different locations. How do you keep the content fresh from event to event?
That's in a large part down to the speakers. We do have some speakers who are regulars but always have at least some new speakers each time, who bring a new perspective and new content. I also work with the speakers to decide a specific topic – they are the ones working day-to-day on projects so will be able to highlight issues, challenges and trends they are seeing, as well as interesting campaigns they've run or pitfalls they can help others avoid.
Who's your ideal speaker and how do you tackle the selection process?
This is tricky – there are some amazing speakers out there who we wouldn't have at ISS, because they don't have international insights or experience to share. So we're always looking for people who work day in day out on international campaigns, who can share really useful tips for improving global performance. Attendees always love to hear from in-house digital marketers, sharing what they've done for their brand – but many brands are nervous about sharing their success and giving away intelligence to the competition – so they aren't always too easy to find!
I tend to approach people to speak – either previous speakers, people we've worked with, people I've seen speak or who are always sharing useful, relevant content. But we're always happy to receive pitches and ideas from anyone who'd like to be part of the event.
How do you use social media for attracting attendees?
For so many people, social media is the only place they go to see what's going on, to get information and ideas. Social channels are great for highlighting our speakers and reaching an audience which follows them and learns from them, as well as discovering people who are talking about the topics we cover. We've also started using video more to catch attention and convey the atmosphere and experience of the event – and get potential attendees excited to be part of it.
What are you most excited about for your upcoming events in Barcelona and London, both in May?
Barcelona is a great city to visit! I think we've got a great line-up of speakers – with some really topical talks around voice search and mobile-first indexing. We have another Q&A session with Gary Illyes from Google which I love – as this enables people to get answers to specific questions/issues they are facing, from a search engine they work with daily and really get value. We're thrilled to have Swydo's founder and managing director Jeroen Maljers speaking on global PPC campaigns!
London was our original event, so it's always great to do ISS there. We've got several search engines participating in that event, as well as some big global brands like Lego and Vodafone so we should get a range of perspectives and ideas. We'll also have a session on the impact of GDPR on search – and as the event is just 4 days before the new regulation becomes law, it's definitely a hot topic!
What tips do you have for attendees to maximize their time on-site at ISS?
My biggest tip is to ask questions. You have all these specialists there – pick their brains, get some new ideas, find the solution to a problem you're facing. It's an intimate event by design, so all attendees have the chance to ask questions and the speakers are all around during the breaks so you get to mix with them more than at other events. Use that opportunity.
How do you want visitors to feel when they leave ISS?
Inspired to try new ideas and less daunted about the task of international SEO or PPC! Mostly, I want them to leave feeling like they've had a valuable day and got the answers they were looking for.
What are the top 3 conferences – other than those you produce – that you attend every year? Why?
BrightonSEO is now a staple for us  – the buzz around it is totally unique and it is always a great experience to be part of it. I'm also a big fan of SMX Munich – it's grown a lot and consistently delivers a good experience. You'll also find Webcertain at the Yandex Expert Summit every year – where their senior product managers and leadership attend to share the latest developments, products and trends with Yandex advertisers.
Where do you see your International Search Summit in 2 years?
International expansion is becoming a reality for more and more businesses, so I can't see demand for international-focused content waning anytime soon. I hope we'll still be running the events, attracting a wider audience and developing the content and topics we delve into even further.
What have you learned about producing conferences that you didn't know when you got started in the business?

Ah, where to start! It's definitely not an easy task – there are lots of different elements to bring together, and there are always things which can go wrong. So being organised, having back-up plans and not panicking are all essential to ensure it goes smoothly and that I stay sane!
I found it very hard at first not to take any criticism of the event personally; anything but a glowing review felt like failure. But of course you can't please all the people all of the time and every session and every event won't resonate with every attendee. I always consider feedback and try to make improvements, and still strive to only get good comments – but accept that won't always be the case.
But the biggest thing –  always provide a good lunch. It doesn't matter how good the content is and how much they learn, if the food isn't great, you can be sure that's what the attendees will comment on!
Bio: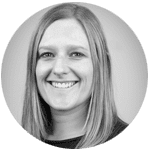 Gemma Houghton is the Director of Marketing at Webcertain, and Event Manager for the International Search Summit. She is responsible for the program, operations and marketing for the event and has been involved in ISS since 2008. With over 10 years experience in international digital marketing, Gemma understands the challenges, pain points and opportunities of targeting a wide audience, all around the world. You can reach Gemma and Webcertain on Twitter @gemhoughton and @WebCertain or via LinkedIn.