Microsoft Advertising is a powerful platform that reaches a vast audience through search engines like Bing, Yahoo, and AOL, offering marketers the opportunity to connect with millions of potential customers.
Automating your Microsoft Ads reporting is easy with Swydo, with hundreds of pre-built KPIs and metrics, and a library of report templates you can customize. Here's a summary of Swydo's Microsoft Ads reporting integration, and how to best leverage it.
What Is Microsoft Advertising?
Microsoft Advertising enables marketers to run search ads, display ads, and shopping ads to reach their target audience effectively. It allows precise targeting based on keywords, demographics, location, device, and audience segments. Marketers can tailor their ads to specific user characteristics and behaviors, ensuring their messages reach the right audience.
With Microsoft's Bing securing the second position in the search engine market, it caters to an audience that often utilizes the Microsoft operating ecosystem. Given the active engagement of users with this search engine, it is a valuable platform for marketers to connect with their target audience.
Microsoft Advertising offers various goals to achieve marketing objectives:
Increase brand awareness
Drive website visits and traffic
Boost video views
Drive website conversions
Encourage app installs
Increase store visits for brick-and-mortar businesses
There are multiple ad options available through Microsoft Advertising to reach your target audience and communicate your message effectively. Formats available include:
App Install Ads: Direct links to apps for driving downloads tailored for mobile devices (Apple App Store or Google Play).
Expanded Text Ads (ETA): Enhanced ads with multiple parts for more characters and customization.
Dynamic Search Ads: Automatically targeted ads based on website content, dynamically created for search queries.
Microsoft Advertising in Bing Smart Search: Text ads optimized for touch experience in Windows 8.1 Smart Search results.
Microsoft Audience Ads: Native ads optimized for search advertisers, delivering high-quality traffic from non-search placements.
Multimedia Ads: Attention-grabbing ads with visual imagery to showcase brands and products.
Product Ads: Custom images from product catalogs with promotional text for increasing traffic and sales.
Responsive Search Ads: Multiple headlines and descriptions dynamically mixed for effective ads.
Vertical Ads: Personalized ads generated with dynamic data feeds for increased volume and click-through rates.
Why You Need to Monitor Your Microsoft Ads Campaigns
Let's say you've determined that leveraging the Microsoft Advertising platform makes sense for your goals, target audience and marketing budget. In order to optimize campaigns, improve your ROI and achieve those goals, you need to be able to track performance. The benefits are compelling:
Establish KPIs to match your goals, and monitor progress against those goals to optimize results.
Track ad performance over time to analyze which campaigns, creatives, keywords or ad groups are successful.
Improve your decision making by quickly identifying issues and leverage opportunities to boost your ROI.
Microsoft Ads Automated Reporting with Swydo
Swydo's Microsoft Ads integration allows customers to import their Microsoft Advertising campaign data into Swydo, enabling them to create detailed and shareable reports on their advertising efforts, including performance metrics and audience insights.
What's more, with 30+ additional integrations, Swydo provides marketers a seamless way to track and analyze their campaigns' performance across multiple platforms. It provides an efficient and effective way to track performance over time, set and monitor goals, and gain data-driven insights.
Create and automate customized reports and dashboards in just minutes with templates, pre-built KPIs and metrics, and multiple data visualization options. We make it easy to monitor all your clients KPIs in one place, so you can detect issues (or opportunities) faster and take action to improve results. The time you save by automating your reporting can be used for analyzing and optimizing campaigns, maximizing ROI and growing your business.
Comprehensive Microsoft Advertising Metrics Available
With over 300 metrics available to track campaign performance and demographics, Swydo customers have access to a wide range of data to measure the success and impact of their advertising efforts. This comprehensive tracking enables them to gain valuable insights into various aspects of their campaigns. Swydo's Microsoft Ads integration enables you to:
Monitor Campaign Performance: Track key performance indicators (KPIs) such as Clicks, Impressions, CTR, Conversions, Cost Per Conversion, Revenue, and more. This will help you assess the overall effectiveness of your campaigns, and identify areas for improvement, and make informed decisions to optimize their advertising strategies.

Gain Audience Insights: Metrics like Gender, Age Group, City, Country, and State provide valuable demographic insights about the target audience. You can leverage this information to tailor your ads and strategies to better resonate with specific audience segments.

Analyze ROI: Available metrics like Return on Ad Spend (ROAS) will help you calculate the revenue generated in relation to the ad spend to better understand the profitability of your campaigns and make data-driven decisions to maximize your return on investment.

Benchmark Performance: Metrics like Average CPC, Impression Share Percent, and Average Position will enable you to benchmark your campaign performance against industry standards and competitors so you can gauge your position in the market and strive for better results.

Track Conversions: Metrics related to Conversions, Conversion Rate, and Cost Per Conversion provide insights into the effectiveness of your marketing efforts in driving desired actions, such as sign-ups, purchases, or form submissions.
Check out this list of top Microsoft Ads metrics you should include in your client reports.
Increase Productivity with Pre-built KPIs and Report Templates
Create professional reports easily and quickly with just a few clicks by customizing a pre-built Microsoft Ads report template, with the flexibility to add any of the default KPIs and widgets available. You also have the ability to create your own custom metrics and KPIs, as well as report templates, which you can leverage across your clients.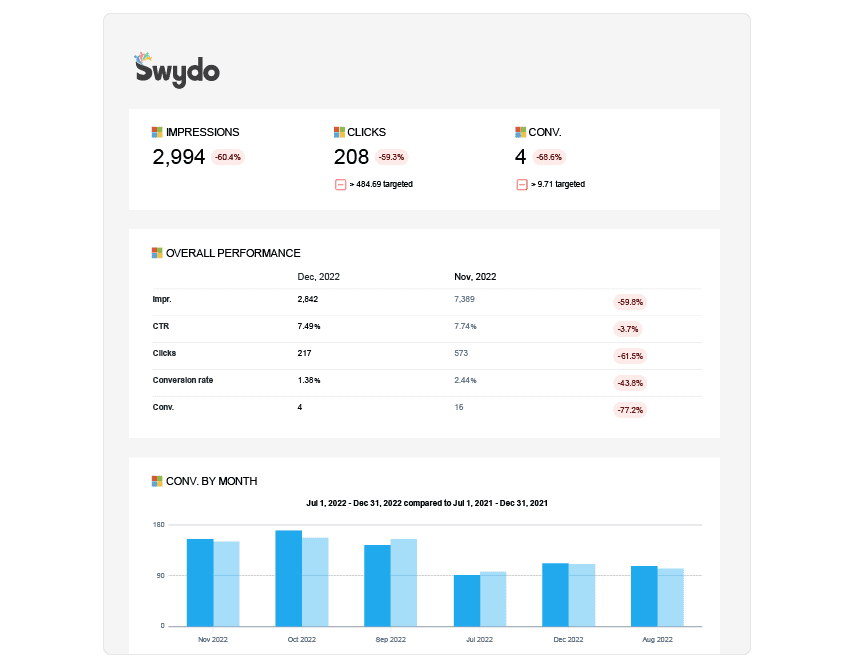 Combine Microsoft Ads Data for One Comprehensive Cross-channel Report or Dashboard
You are most likely leveraging multiple marketing channels on behalf of your clients to reach their business goals. Eliminate the need to pull data from different platforms, or send out separate reports. With over 30+ marketing integrations, Swydo's makes it easy to build one comprehensive automated report that incorporates your Microsoft Ads metrics along with your other PPC, SEO, social, email and content marketing data.
How to Set Up Your Microsoft Ads Reports in Swydo
Step 1: Connect your Microsoft Ads data source
It only takes a few steps to connect your Microsoft Advertising account. New to Swydo? Sign up for a free trial account.
Step 2: Select a pre-built Microsoft Ads template
Once connected, select a pre-built template from our gallery and your report will populate your data automatically. Or create your own custom report based upon your data needs.
Step 3: Customize
Swydo's customization features allow you to tailor your report to meet your needs. Change or create new KPIs, select data visualization charts, add text to explain results or insights. White label your reports and give them your brand's signature look to boost visibility and trust.
Step 4: Share your report!
Schedule your reports to send automatically! You have the option to share your reports as online dashboards using your own custom URL, or send by PDF – all from your own domain.
Want to automate your Microsoft Ads reporting?
Setting up your first Microsoft Ads report with Swydo is easy, schedule a walkthrough and we'll show you how to get the most value out of the platform or sign up for a free trial and create a free marketing report in minutes.
You get additional support through our help center, video tutorials, chat or email support@swydo.com. Not yet a Swydo customer? Learn more about our Microsoft Ads integration and take advantage of our free trial to experience how Swydo keeps reporting simple. Our customers agree!