When you launched your agency, you probably built your client base through a mix of networking, advertising and word of mouth. But after being in business for a number of years, how do you keep up that momentum and break into new markets?
Since founding Ascendancy over 14 years ago, Helen Culshaw has developed creative ways to generate new client business as well as meet the challenges agency growth creates operationally. Her tactics below may give you some ideas to apply to your firm.
How would you describe your company in less than 150 words?
Ascendancy Internet Marketing is a full-service digital agency based in Shropshire and employing 13 staff. Search engine marketing is at the core of the business, and the websites we design and develop are built with digital marketing in mind.

What is one strategy that has helped you grow your business? Please explain how.
Running events and training courses on various aspects of digital marketing has enabled us to demonstrate our expertise and reach a wide audience of businesses. By building our credibility within the local marketplace and beyond we have been able to reach out to the types of businesses we want to work with.
What does your typical day look like and how do you make it productive?
It would be very easy for the whole day to be taken over by answering emails and answering staff and client queries. And I do indeed spend a lot of time doing these things. However, I always start the day with a list of things I need to achieve by the end of the day, and work hard to get those done, despite the other interruptions that come my way. I tend to work on emails in short bursts and then get bigger projects done in between.
Besides acquiring new customers, what is the biggest challenge in growing your business?
Changing our systems as we grow. Because we've been in business a long time, we have established systems and processes, but when you hit a certain point in your growth, those systems don't really work any more.
For example, we have recently had to move to a more rigorous system of job codes, so that we can more easily tie up information about individual projects across the various software packages we use for delivery, accounts and so on. Coming up with a job code system that would work across the whole business was surprisingly challenging! Balancing day-to-day smooth running of the business with resolving underlying issues, and reconfiguring the way you do business, is always difficult.
What do you think is the most interesting trend in digital advertising now?
Definitely machine learning. The agency role is going to change over the coming years as some aspects of what we do become more automated. But the increasing range of options out there for advertisers means that agencies will continue to have a really important role, guiding their clients through the maze and helping them accurately assess the results of their marketing activity.
Do you see any trends specific to PPC reporting?
I think clients are increasingly asking what the data means – they're no longer happy with a few line graphs and pie charts, but want more interpretation of the meaning of the data. I think PPC reporting platforms will need to become more flexible in the way we can present data in order to 'tell the story' of the data more effectively.
Ideally we like to work with clients who have really clear goals for their PPC accounts, with defined KPIs that we can then work towards. Where we have these clear goals, it makes reporting much more effective, because you can very much gear your whole report around showing where you are in relation to the goals, and how you're going to get there – rather than just presenting a smorgasbord of random stats.
How will these trends impact advertisers in the future?
I think most advertisers will have a much more powerful suite of tools at their fingertips – but may find the sheer range of different options overwhelming and difficult to navigate. This may lead to an increase in specialisation – or, if the machine learning 'just works', maybe we can just all sit on a beach and let the machine do all the work!
What are the biggest challenges you face in PPC campaign management?
There are two particular (related) issues we face again and again – getting accurate conversion tracking set up, and clients having poor websites that don't convert well.  We generally address the latter issue by setting up landing pages and split testing them, demonstrating to clients which changes result in an increase in enquiries. This then makes it easier to apply some of the things we've learned back to their main website.

What are the top 5 tools or apps you use almost every day?
Google Analytics

– for reporting, and to diagnose and resolve website issues

Google Ads

– Google Ad management being one of our key services – we're a Google Premier Partner

WordPress

– our own website and blog, as well as those of clients

Swydo

– for time logging and project coordination, as well as reporting

Candy Crush 🙂
What was the worst job you ever had and what did you learn from it?
Picking flowers as a student. It sounded so romantic… but it was actually back breaking, poorly paid work in a (usually) muddy field. I guess I learned not to take jobs at face value!
What people have influenced your thinking (and why) and might be of interest to others?
The people who have influenced my thinking are all people I've known, not distant business leaders:
The airline boss who told me I'd make a great PA – which made me realise I didn't want to work for anyone else, but be the boss!

The university friend who died young – and made me grateful for what I have

My parents, who taught me to work hard and manage money carefully
What is your favorite quote?
"Don't dance to the rhythm" – Erasure
Where do you see your company in 10 years?
Continuing to grow, offering great job opportunities to talented local people, bringing the best quality digital marketing services to our clients, without me needing to be present every day!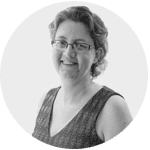 Bio:
Helen founded Ascendancy in 2004; she has worked in the digital media industry since 1999 and has a background in search engine marketing, though she started out as a web designer.
Helen is a Visiting Lecturer at Birkbeck College, London, and is a regular public speaker on internet marketing and web related topics, running most of Ascendancy's training courses.