We are excited to announce some dramatic improvements for Swydo users in collecting and presenting campaign data to their customers. You now have more Google Analytics metrics and widgets at your disposal to improve the quality of your reporting, including DoubleClick, e-commerce metrics, new time intervals and more.
The highlights on these new capabilities:
Ability to Add Second Metric to Charts
We heard you loud and clear. You can now combine two metrics in a single chart, improving your ability to compare/contrast data, identify trends and communicate results to your clients.
For instance, compare users and number of sessions per user by week:

Or compare website users versus transactions over a defined time period:
 
Dive Deeper Into Your Data with Dimensions
Dig into the details through Swydo's new capability to breakdown data by specific secondary dimensions. For example, you can now view monthly performance for users, ecommerce conversion rate, transactions and revenue by channel rather than in aggregate. This provides you with invaluable information about trends and successes in your clients' campaigns.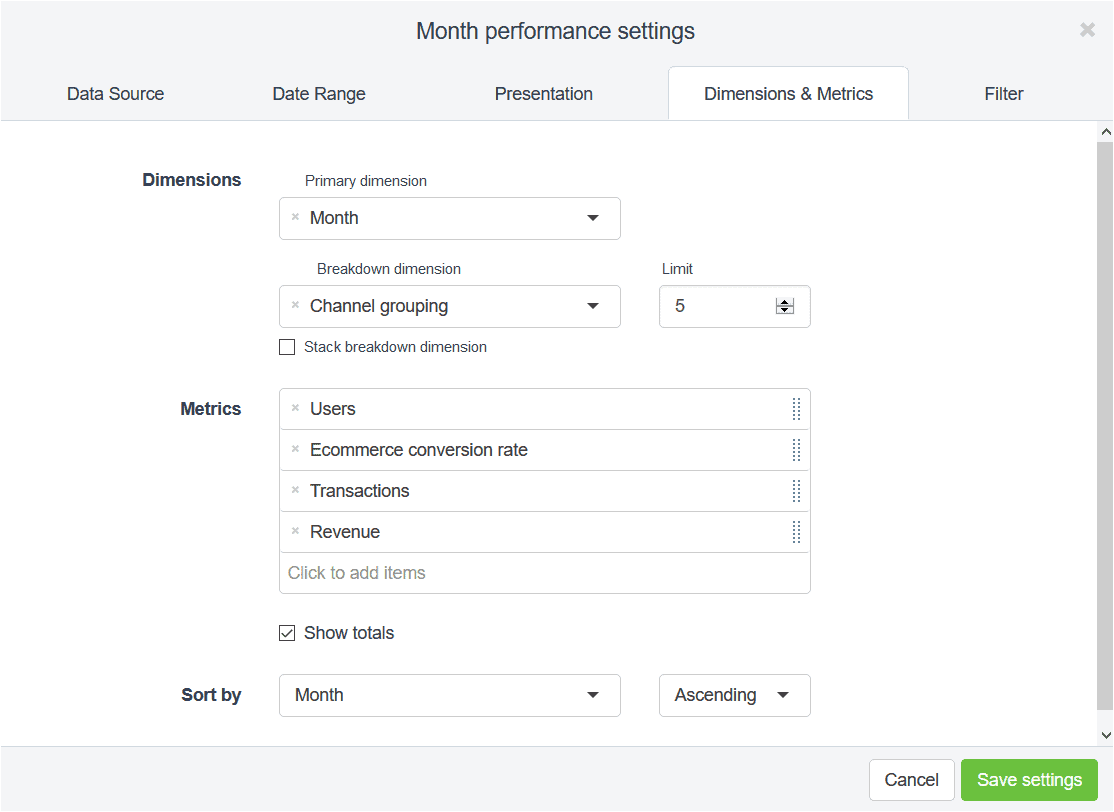 Present Your Data Via Pie Charts
We've added the option to display your data through a pie chart, providing you an easy to understand visual for your clients.


Filter on Goals
Using filters, you can create specialized views for particular portions of your clients' data. This new feature allows you to modify how the data is presented by specific goals you select, regardless if your client has set up other goals in that view. By giving you greater flexibility in how you filter data, you can more effectively present what truly matters for your clients' success.
Create Custom Widgets
This may be the most impactful change we are rolling out. In addition to leveraging Swydo's default widgets, you can now create your own widget from scratch! Leverage our widget builder to fully customize your reports and communicate data to show your results and impact on your clients' campaigns.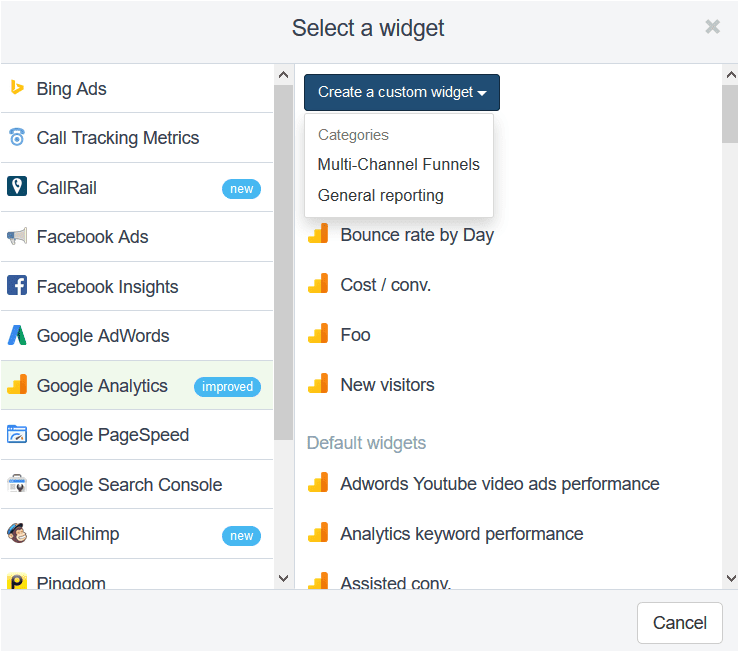 Save and Copy Custom Widgets
And there's no need to create the same widgets over and over! Simply make a copy of the widget and adjust what's needed. You can also save and reuse a widget, saving you more time for analyzing and optimizing your efforts.
We are convinced that you and your team will enjoy these enhancements. Please let us know if you encounter any issues or have general feedback.
​Team Swydo