Dynamic and resourceful. Every successful company needs those qualities, but it's especially important for small businesses in competitive and constantly evolving industries like digital marketing. With a team of 6 strong, Stafferton Consulting leverages the latest trends – like programmatic advertising – to benefit their clients' campaigns and ROI. Read more in this spotlight with CEO and founder Simon Stafferton.
How would you describe your company in less than 100 words?
Stafferton Consulting is a Digital Marketing Agency specialising in SEO. Established in 2011 and with professional SEO experience going back to the early days, we pride ourselves on being ahead of the curve in technology and industry trends. We are experts in Web Analytics and are often called upon to assist with reporting, conversion and analytics issues.
As well as being an Google Partner Agency, we test methods, tactics and strategies continuously on our own sites, so we know what works and what doesn't rather than putting trust in the latest posts and chatter on the industry blogs and forums.
What is one strategy that has helped you grow your business? Please explain how.
Word of mouth referrals. We are honest to a tee and deliver what we say we are going to deliver; this, combined with speaking plain English and not jargon has helped us grow organically via word of mouth and referrals.
Our detailed monthly reporting using Swydo is key to helping demonstrate the month by month and year on year improvements to each clients' website performance. Having tried and tested a multitude of reporting software in the past, we have found Swydo to be by far the most flexible, reliable and produces the best looking reports too which helps maintain our professional image.
What does your typical day look like and how do you make it productive?
To be honest there is no typical day! While we plan activities for all ongoing projects and campaigns weeks in advance, in reality priorities can change and sometimes we need to react. This may be to sudden market or seasonal changes, to staff absence (we are only 6 strong!) to updates from Google/Facebook/Bing on PPC platforms or the ranking Algorithms, or to unforeseen issues.
We make sure we stay productive by planning ahead, by having robust, documented systems and processes and supporting software, and by keeping a clear trail of communication, often via Slack internally or via email/phone with clients. We also have a policy of not having email open all the time, as the constant checking of that (and social channels) can be one of the biggest distractions, leading to a productivity drain!
Besides acquiring new customers, what is the biggest challenge in growing your business?
When you are small, being able to keep on top of everything in the world of business administration is a challenge. The legislation will vary on where you are based, but here in the UK we have various obligations for multiple taxes, pensions, National Insurance, Companies House, and HMRC, not to mention things like Professional Indemnity Insurance, invoicing, book keeping, contracts and of course IT. If you are not careful and don't seek help or build good systems for these type of things, they really can end up consuming far too much time that could, and should, be spent growing the business.
What do you think is the most interesting trend in digital advertising now?
The most interesting trend for us is probably the recent surge in programmatic advertising. Being data driven and not relying on a single platform – that creates huge potential. By combining a wide range of web user data with the already connected ad buying and selling exchanges, targeting ads can be more precise. This, combined with dynamic creative technology, means advertisers are discovering that better targeting and more personalization through programmatic means greater relevance, more engagement and improved ROI.
Using one of the major global players in programmatic providers on the market, we have been able to build up a wealth of true demographic information about our clients' website users, helping both the relevance and effectiveness of ads, as well as bring a whole new level of insight into who the target audience really is.

Do you see any trends specific to PPC reporting?
We see more of a move to dashboard style reporting and online portals for reports. While many stakeholders still like PDFs and even still print reports, this will soon become even more 'old hat' than it is now. Integration with data from other channels and systems as well as third party data is also something that we have started to see. Being able to plot things like the weather, news events, economic trends etc on top of campaign performance would be great. This has been available at the enterprise level for years – the creation of more affordable reporting software would be awesome.
How will these trends impact advertisers in the future?
Advertisers will need to make sure they are on top of these type of trends to ensure they stay competitive. They will also need to be fully aware of the limits, the risks and who else is doing what in their marketplace. At the end of the day, to win, you just need to be a bit better than your competition. Investing to get light years ahead is great, but only if you can sustain it / maintain a healthy ROI along the way.
What are the biggest challenges you face in PPC campaign management?
The biggest challenge we face relates to conversion tracking. We know that the ultimate goal to track on any marketing campaign is revenue generated. For some business models such as a Shopify ecom store, this is quite straightforward. However in different industries where multiple systems are in play and the final monetary transaction happens sometimes many months after the initial click, things get more challenging. However we enjoy these type of challenges and have built bespoke campaign tracking systems in the past for the perm recruitment industry, so it's not something that has beaten us!
What are the top 5 tools or apps you use almost every day?
The top 5 we use are:
Slack: With most of our team being remote, we rely heavily on messaging software for day to day communications. We used to use Skype, but having discovered Slack a couple of years ago, we made the switch and haven't looked back! We have found it to be much more reliable, and really simple to integrate many of our other tools. If a website goes down, we get an alert in Slack. If a new deal is won, we get an alert in Slack. A domain is about to expire? We get an alert in Slack. The productivity and time saving benefits are endless. Safe to say, we are big fans!
Trello: Having used many different solutions for task and project management in the past, we always end up coming back to Trello. Its highly visual representation, ease of use, and the fact it doesn't try to be a 'Jack of all trades' helps it work seamlessly with our workflows. The fact it also integrates with Slack, with Pipedrive, G Suite and many other services is an added bonus!
Zapier: Zapier is the glue between all the systems and software we use. When an existing integration doesn't quite work as we want it, Zapier can plug the gap. When an integration is missing, more often than not we can use Zapier to automate certain actions, to make things efficient and make everyone involved lives easier. We have even used it to perform some actions that are missing from software – like automating payment receipts in Xero.
Pipedrive: This is our favourite CRM by far. Much like Trello, it gives a great visual representation of the status of deals and prospects and is a breeze to use. It integrates perfectly with our proposal software and even automatically tracks email and phone communications for existing clients!
G Suite: We rely on the G Suite for all email as well as Google Drive docs and sheets. The Google Calendar also syncs both ways with appointments and events in Pipedrive, again making for a seamless workflow with zero dual entry of data.
We have these all connected, as well as Xero for invoicing and Proposify for proposals. And of course Swydo on a regular basis for analysis and reporting!
What was the worst job you ever had and what did you learn from it?
I'd say the worst job was probably one we took on 4-5 years ago, for a client who shall of course remain unnamed. The project took the phrase 'scope creep' to a whole new level, and our main contact assumed we were mind readers, miracle workers and also a charity. It was taken on at short notice and should have been a 2 week job. As the months went past, we really learnt the importance of only proceeding with any project once a very clear spec has been fully agreed, and also that the client is someone we'd like to work with!
With regards to actual 'Jobs' the worst was probably unloading bananas from a ship docked in Portsmouth one summer when I was a teenager. I learnt I didn't like getting up at 5:30am, nor like shifting heavy boxes all day in the middle of summer…. I think I lasted 3 days!
What people have influenced your thinking (and why) and might be of interest to others?
So many, some which you'd unlikely have heard off, some who I'm sure you have. Those with biggest impact are:
Alex Becker

– I followed him in the early days of Source Wave and Source Infinitum, and has JFDI approach and clear repeatable training really resonated.

Stephen Floyd

– I have been a student of Stephen's for years and have nothing but respect for him. As well as being a limitless source of knowledge on anything to do with websites and online marketing, he is a nice, approachable, down to earth family man.

Kotton Grammer

– this guy is a machine in terms of building up a successful SEO agency and I have learnt a ton from him in relation to client acquisition, onboarding, SEO and new innovative ways to build a business.

Eben Pagan

– for his teaching on productivity. After I went through his training 'Wake Up Productive' a few years back, my productivity and approach to managing my time really improved.

Tim Ferris

– for the old classic "4 hour work week". Working just 4 hours a week was never a real goal of mine, but reading this book on my 75 minute commute to London was one of the triggers for quitting the rat race and setting up Stafferton Consulting.

Gary Keller

– for his book, "The One Thing". He picks up the dated concept of multitasking and chucks it where it belongs. I try and live by this mantra now, of doing one thing, and do it as best as you can.

Stephen Covey

– for his book "The 7 Habits of Highly Effective People". I have the audio version too and often enjoy re-listening to this while out for a walk. Inspiring and powerful stuff.
What is your favorite quote?
"If you think you can, you can. If you think you can't you can't!" Henry Ford
Where do you see your company in the next 3-5 years?
I see Stafferton Consulting continuing to grow organically to double the size in the next 3 years and double again in the next 5. We will continue to be a very lean operation with highly efficient processes & automation, while retaining the personal touch.
Bio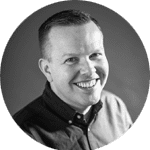 Simon Stafferton is the CEO & Founder of Stafferton Consulting. Having built his first website in 1996 and launched his first business the same year he has always had that entrepreneurial drive. He is a veteran of the SEO industry and his business manages over £1 Million of Adwords spend. You can reach him on Linkedin or at @stafferton