As of 2019, the global population of Generation Z is set to surpass millennials. That stat should make marketers sit up and pay attention, and, if they haven't already, start figuring out how they'll need to adapt their marketing, both message and delivery, or fall behind their competition. In this spotlight we talk with video marketing strategist Anesha Collins about her upcoming conference presentation at PPC Hero London, as well as her thoughts on digital advertising trends and more.
Can you give us some insights into what PPC Hero London attendees will learn in your session " Video Marketing: Connecting & Conversion With The Future Customer"?
A lot of marketing content currently displayed online is catering to an older audience. One of the most common mistakes I see a lot of marketers doing is not developing advertising content that speaks to the future consumer (also known as Generation Z).
Generation Z is attracted to lean forward content. They want a more personalization experience, and also want content that they can share with others; especially with video content.
Have you participated in a PPC Hero event before?
I haven't attended a HeroConference PPC event before. I found the conference online while doing some research and was really impressed by the visual presentation of the event. It's evident that HeroConf strives to bring new, innovative, and thought-provoking content and topics.
What tips do you have for attendees to maximize their time on-site at PPC Hero London?
Spend some time in advance to look up some of the speakers on LinkedIn. This is a great way to connect with them in advance. It will make networking and talking to them in person less awkward.
If you can't do this in advance be open-minded about networking on-site. Set a goal to meet and get to know at least 3-5 people (speakers or attendees) while there.
The point is to get out of your comfort zone. You never know who is standing or sitting next to you.
Other than your own session, what presentations are you most interested in attending and why?
There are a lot of great topics being addressed at HeroCon-London. Some of the sessions that I am really excited to attend are Luxury vs Non-Luxury Digital Strategy – What Can We Learn with speaker Emma Searle, AI & Machine Learning Tools from Google, and How To Use Language Psychology To Supercharge Your PPC Campaigns.
All of these topics are areas that I have been putting more focus on so I'm really intrigued to hear what these Speakers have to say.
What do you think is the most interesting trend in digital advertising now?
Omnichannel presence with a heavy concentration on video-marketing and social media marketing.
Video-marketing is gaining the most traction when KPIs are considered and incorporated into decision making of what content to develop, however, a lot of businesses are still not using it as much as they should.
Social media marketing would be the second, especially on platforms like Instagram, Tik Tok, Facebook, and LinkedIn (especially for B2B).
What are the top 5 tools or apps you use almost every day and why?
Some of my favorite tools to use for engaging and connecting are:
Instagram Stories and ECAMM LIVE (for live-streaming to Facebook and YouTube).
LOOLA.tv to Livestream on Instagram and YouTube at the same time.
My Canon DSLR and iPhone (on camera setting 4K) to record video content.
Final Cut Pro to edit videos, Photoshop CC for creation of additional visual assets, and Lightroom CC to editing photos.
Photoshop CC to make customized GIFS and Overlays for video content and Instagram Stories posts.
What was the worst job you ever had and what did you learn from it?
The worst job I ever had was working for a marketing agency that knew absolutely nothing about video-marketing and social media advertising. Their approach was very much to "wing it" and that really disturbed me.
I understand the power of video-marketing and gaining the right attention. This is why I am so passionate about teaching businesses the right way to use video-marketing and how to utilize tools and resources for video-marketing that are available.
Regardless to whether a marketer is using high or low-cost advertising, the "wing it" or "no strategy mindset" is not the right approach for any business.
What people have influenced your thinking (and why) and might be of interest to others?
Quite a few people have influenced my thinking. Ross Simmonds, Seth Godin, ChrisDo, Brittney Jeanine and Gary Vaynerchuk to name a few. Not only have I learned to focus on what's really impactful when it comes to digital-marketing and serving your audience, but they all share the same messaging when it comes to being authentic.
Gary Vaynerchuk has been influential to me for years. I even had the opportunity to shoot a commercial for his GaryVee003 – Female sneakers. We talked about doing shoot and he made it happen.
What is your favorite quote?
"You can have a seat at the table, pick up a chair and sit."
What advice would you give yourself when you first got started in digital advertising?
Show up and be consistent. Consistency is not about being the most flashy in the videos you produce or the content you share. It's about staying committed to your audience, serving your audience first and building that know, like, and factor with your audience.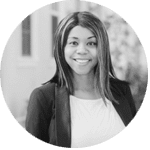 Bio: Anesha Collins is an intuitive speaker, educator, and businesswoman that passionately empowers creative entrepreneurs and business owners with the knowledge they need to be successful at video-marketing for the growth and momentum of their brand and business. She is the founder of LEARNWITHAC, an educational platform on which she provides innovative ways to use video-marketing to target the future consumer.