For many digital marketing agencies, Google Ads their "go-to" platform for their clients' PPC campaigns. But competition can boost CPC and lower ROI, which may lead some to consider diversifying the advertising platforms used. In this spotlight article, Katja von der Burg, founder and CEO of online marketing agency Projecter, gives us some insight into her upcoming SMX Munich session on PPC campaigns beyond Google Ads. Interested in attending SMX Munich? Keep reading for special 15% discount code!
Your session at SMX Munich will explore PPC campaigns beyond Google Ads, and focus instead on TikTok, LinkedIn and Amazon. Can you tell us a little more about the opportunities these channels offer, why companies should consider spending budget on them, and why your session is "must attend"?
As competition grows stronger and stronger on "classic" PPC channels, everybody is looking for alternatives. Turning to other platforms or adding them to your portfolio can lead to improved KPIs such as CPC or ROI and also open access to new customer groups. But my session is not only about advertising on other platforms but also about discovering altogether new strategies like content and storytelling to enter the customer journey much earlier. This would give you a real competitive advantage!
Interested in attending Katja's session along with the other insightful presentations at SMX Munich in March 2020? Check out the agenda and register today to save with a special 15% discount code SWYDOSMX. 
Have you participated SMX Munich before?
I've been to SMX several times and absolutely love the broad range of topics covered there. Be it technical or strategical – everybody will find something to suit their needs in the different tracks.
What tips do you have for attendees to maximize their time on-site at SMX Munich?
Make sure to scan the huge program in advance to pick out sessions that are particularly interesting for you. Always make sure you attend the right level of know-how and don't be shy to leave a session for another one if you notice in the first five minutes that you have misplaced your self. FOMO (fear of missing out) really is a thing here!
What SMX Munich presentations are you most interested in attending/speakers you are most interested to hear and why?
Since my level of expertise is more strategic, I am most interested in the "Search Beyond Google" Track, looking for inspiration on other platforms like YouTube or – more exotic – Quora.
What do you think is the most interesting trend in digital marketing now?
There is no such thing as THE most interesting trend since the digital landscape has grown so huge over the past couple of years. Of course, the rise of AI and automatization in combination with data science will lead to big changes in the next decade. The same goes for voice control in practically all aspects of our lives. But one thing I find particularly fascinating is – at the same time as automatization – the return of the human factor. Storytelling, recommendation marketing and influencers demonstrate how ever more important orientation by a human voice is becoming.
What are the top 5 tools or apps you use almost every day (please include short blurb what you use for)?
Slack – communication with my team
Kindle Oasis – for reading books (a lot)
LinkedIn App – favorite professional social network
Instagram App – favorite private social network
Strava – to keep track of my training and sports social network
What was the worst job you ever had and what did you learn from it?
After highschool, I spent the summer before going to university selling newspapers and various other stuff (like Schnaps) in a small newsstand in my hometown. Pay was meagre, working hours long (and early) and customers very diversified (and often quite drunk). What did I learn from it? Earning money can be really tough, but it can also be done if you must. So be clever and find better ways than in those six weeks 🙂
What people have influenced your thinking (and why) and might be of interest to others?
I have been influenced by numerous books in the past decades (quite old-fashioned) – it would take too long to list them all. I just want to name two people who both inspire great hope in me and the feeling that change can be really achieved: Greta Thunberg and Barack Obama.
What is your favorite quote?
Yes we can!
What advice would you give yourself when you first got started in digital marketing?
Trust your skills, stay curious and keep on learning – then you will always stay on top of the digitalization wave!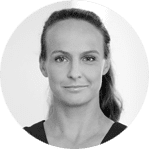 BIO:
Katja von der Burg is the founder and managing director of the online marketing agency Projecter. She has been dealing with online marketing topics for 15 years and is an expert in online marketing strategies, social media and influencer marketing. With 55 employees, Projecter advises and supports clients such as Messe München, Carhartt WIP and SportScheck in all online marketing disciplines. As a trained journalist, Katja is very interested in all content formats and is very active on LinkedIn. As a runner and extreme athlete, she also uses social media from the perspective of influencers.