With 86% of consumers relying on the internet to find local businesses, if you or your clients depend upon local customers then maximizing your local search results is key to success. This March, local search marketing expert Mike Blumenthal will be taking the stage at SMX Munich to talk about this very topic while dispelling many myths people have about local marketing. Keep reading for a peek inside his presentation, plus a few more insights – and a special discount code for SMX Munich!
Your SMX Munich session is focused on local search, what is myth and what is fact based upon real data and results. Without giving too much away, can you give us one misconception (or one valuable tip) that folks have about local marketing, and why your session is "must attend"?
Why attend my talk besides the fact that I am such a nice guy (although I am also a bit of a curmudgeon)?
Local search has long been the "canary in Google's coal mine" of entity search. It all started with local and what we see there that works provides insights into all entity search.
As to myths, the one whose heart I would like to put a dagger in is citations and NAP consistency. They were useful in the distant past but they stopped being relevant probably 5 years ago. The fact that small businesses are paying monthly fees for citation services is bordering on criminal.
Interested in attending SMX Munich to meet Mike and the other 80+ search expert speakers from around the world? Check out the agenda and register today to save a special 15% discount code SWYDOSMX. 
Have you participated SMX Munich before?
I have participated previously. It was a number of years ago at the invitation of (event producer) Sandra Finley. And that is one of the main reasons I am coming back. She is a great human being and runs a great conference.
The other reason(s) though is that I love Munich and I love the fact that I can get real bread and 5 different types of sausage and 7 different types of cheese for breakfast.
And, not related to SMX, is that the date of this event is a short time before our 30th wedding anniversary and I couldn't think of a better place to kick off that trip than from Munich.
What tips do you have for attendees to maximize their time on-site at SMX Munich?
You mean besides geeking out on Local Search? I am probably not the right person to ask as I am so focused on that topic.
But if I were forced to say it would be to learn everything you can about images, image AI and how that relates to entity search. Think Cindy Krum's talk.
What SMX Munich presentations are you most interested in attending/speakers you are most interested to hear and why?
I am going to take the 5th amendment on this. For those of you not familiar with US Constitutional law, that is the right to not self incriminate. I like so many of the speakers and I won't be able to see all of the ones that I would like, I will remain silent.
What do you think is the most interesting trend in digital marketing now?
I have been studying entity search for a long time but what particularly intrigues me about about search besides the many aspects of entity search is how Google (and Bing) are extending their understanding of the entity and its relationship to other entities in the Knowledge Graph by using AI to look at and understand what is in photos and their context.
What are the top 5 tools or apps you use almost every day?
Google My Business – Somehow in local search, one way or another it comes back to this for every business.
GatherUp – helping businesses be better than they were yesterday. (OK, self serving yes but I do use it that way and I do believe in it).
Whitespark Rank Tracker – I am not a big fan of rank tracking as a KPI but it is useful as a way to orthogonally confirm general improvements that correlate to doing better in local.
Chrome – It's got extensions to do just about everything in local. I use it with GatherUp's review link generator extension and for mobile analysis on the desktop.
Google Vision AI Try the API tool – what better way to show a business what sorts of images they should be using than demonstrating the amazing power that Google has brought to bear on them.
What was the worst job you ever had and what did you learn from it?
I have worked for myself since my first job as a paperboy. I was an independent contractor at age 11(?) and learned that you don't want the longest paper route AND the heaviest paper. The unit economics don't work out. 🙂
It's been uphill (as in getting better) ever since.
Although I have never in my life had a resume, applied for a job or negotiated a raise. Thus others should use caution in taking my advice.
What people have influenced your thinking (and why) and might be of interest to others?
Personally:
My wife: It's better to have a positive role model that is continually learning and continually loving. She is it.
My father: It's ok to have negative role models. They don't define you.
Professionally:
David Mihm: It's important to think about marketing at both the strategic and the tactical level
Aaron Weiche: If you are going to do something, do it right but with integrity and compassion.
What is your favorite quote?
I have trouble encapsulating too much into a snippet like that.
My favorite book? The Great Transformation by Karl Polanyi.
My favorite TV show? Almost any British crime series with their ever more defective protagonist, like River. Or alternatively, the Kominsky Method.
My favorite movie? Then: Jules and Jim or The Grapes of Wrath.
My favorite movie? Now: Any Pixar film as I got to watch most all of them with my son as he was growing up. And even now, I can watch one and love it and it brings all of those moments back.
What advice would you give yourself when you first got started in digital marketing?
Don't pick the longest route with the heaviest newspaper.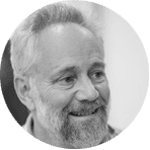 BIO:
Mike Blumenthal is a co-founder of the LocalU conference series and where he serves as CEO and a co-founder of GatherUp where he serves as GatherUp's Chief Review Officer helping our customers get the most out of the platform. Widely cited as the foremost Local Search expert in North America and affectionately known among his colleagues as 'Professor Maps', Mike is the author of one of the industry's most respected blog: Understanding Google Maps & Local Search. He also publishes a weekly podcast, Last Week in Local at Local U, writes a bi-weekly column for StreetFightMag with David Mihm and publishes review related articles and research at GatherUp.com.