Recently we had the pleasure of interviewing one of the most influential digital marketers in the world, Purna Virji, who leads Microsoft's global engagement team. As a featured speaker in next month's Search Marketing Expo – SMX Munich conference, she was happy to share with us some highlights on her presentation and additional insights into the program. Plus we couldn't resist asking her a few more spotlight questions we think you'll find interesting!
Can you give us a sneak peek into your presentation on customer experience considerations in the age of AI?
In this era of AI and intelligent search, marketers need to focus on creating holistic and seamless experiences for their users across all the myriad touchpoints. Afterall, customers are increasingly expecting the brands they interact with to deliver personalized and convenient experiences, if not anticipating what they want and need.
However, research shows that while 80% of brands think they are delivering a great customer experience, only 8% have customers that actually agree! We can do a lot better. We need to do a lot better.

Just how can marketers best leverage AI to create data-driven strategies for optimizing customer engagement? That's what I'll be covering in my session.

I'll be sharing practical advice that digital marketers can use to avoid common mistakes, and share ideas around how to effectively harness intelligent technology to delight and win over the hearts, minds, and loyalty of customers.

You've participated in Search Marketing Expo – SMX Munich events in the past. What are your favorite aspects of the conference that keep you coming back?
I feel so fortunate that this is my 4th year in a row at SMX Munich – it just gets better and better each year. For me, it all comes down to the quality of content and the audience.

Sandra and the team at Rising Media put in a ton of effort into this and it shows. There is such a high bar for the quality of tha talks and the advice shared – I find every single session to be engaging and informative.

Most importantly, the audience at SMX Munich is truly a dream audience. Everyone I have met there year after year has been super engaged, warm and friendly, and loves to discuss ideas over a coffee or beer during breaks. I learn just as much during the networking as I do during the sessions.

And finally the city itself. Munich is gorgeous and one of my absolute favorite cities in the world. I would love to move there one day!

What tips do you have for attendees to maximize their time on-site at SMX Munich?
With so much great content to choose from, plan your sessions in advance. Plus, attend all the networking events, or come chat with other attendees/speakers to share ideas, feedback, thoughts.

Everyone is so friendly and open to talking shop, it's truly delightful.

What presentations are you most interested in attending and why?
So so many – it's hard to name just a few, but I'll try.

Definitely the keynotes – watching Rand Fishkin, Jim Sterne and Karl Gillis is always wonderful. As are Brad Geddes, Bastian Grimm, Tom Anthony and Mike King.

I'm also very interested in the session from Lego, where they talk about how they designed their search strategy. I also love the creativity that German companies show – for example Otto does really interesting strategies, as do German agencies like Catbird Seat, Peak Ace, and Ryte, to name just a few.

What do you think is the most interesting trend in digital advertising now?
I'm most interested in the increased focus on Customer Experience. No matter what discipline of search or marketing you work in, what works universally across them are people-centric campaigns. We need to strategize everything from the POV of the customer.

What are the top 5 tools or apps you use almost every day?
Oooh hard to narrow it down to five, but here's my (failed) attempt:
Twitter app
LinkedIn app
Amazon app – I need to stop spending so much money on there!
Netflix
Kindle
What was the worst job you ever had and what did you learn from it?
I believe that if we look backwards, the dots always connect. We were where we were at points in time for a reason. So even the job or jobs I felt most miserable in at the time were fantastic experiences for me. For example, after being made redundant early in my career, I decided I would work super hard to make myself indispensable to any company. It pushed me to learn more and speak at events and meet some amazing mentors in the industry. I could not be more grateful for that company now, though at the time I felt quite differently.

What people have influenced your thinking and might be of interest to others?
So very many. We are incredibly lucky to work in an industry full of the smartest, kindest, most creative people on the planet…I might be a wee bit biased here 🙂 People like Brad Geddes, Wil Reynolds, Rand Fishkin, Elizabeth Marsten, Will Critchlow, Rhea Drysdale etc. have all been such integral influences in my search marketing career.

I'm also incredibly lucky to have amazing managers and team mates at Microsoft, who feel more like family than colleagues, and who teach me a lot about work, life, and family.

What is your favorite quote?
I'm very type A, so quotes I try to remind myself about tend to be more along the lines of trust the process and going with the flow. Also, anything by Khalil Gibran or from The Little Prince. I can re-read those books over and over.

Thanks Purna!

Want the opportunity to hear Purna and connect with her in-person? Make sure you secure your pass to SMX Munich, taking place 2-3 April. Use special discount SWYDOSMX19 to save additional 15% off your conference ticket.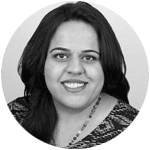 Purna Virji Bio:
Named by Adweek on their 2018 Young Influentials List, Purna specializes in digital marketing, AI, and the future of search. In 2016 she was named by PPC Hero as the #1 Most Influential Expert in the world. She is a regular keynote speaker at conferences across the globe such as AdWeek, DMEXCO, The Next Web Conference and INBOUND. An award-winning former journalist, Purna is also a columnist for Search Engine Land and Moz. In her spare time, she is an avid traveler, aspiring top chef and amateur knitter.