Significant changes are here with Google Analytics and we are ready for it. Are you? Report on your essential GA4 metrics and track your SEO, PPC, E-commerce data, and more with Swydo's Google Analytics 4 integration.
Bring your UA and GA4 data into one automated report
Replacing Universal Analytics is Google Analytics 4 and Swydo has you covered. Enabling you to combine your UA and GA4 data into one customized automated report. Starting July 1, 2023, Google Universal Analytics will stop collecting data on its reporting and property views. For digital marketers and agencies across the world, this means preparing for a transition.
The new Google Analytics 4 allows users to track multiple data sources from both app and web with a focus on events rather than pageviews, sessions, etc. as you know it from UA. At Swydo, we want to make the process of tracking and reporting Google Analytics 4 data as easy as possible. We've created separate integrations for Google Analytics 4 and Universal Analytics to help you transition as smoothly as possible.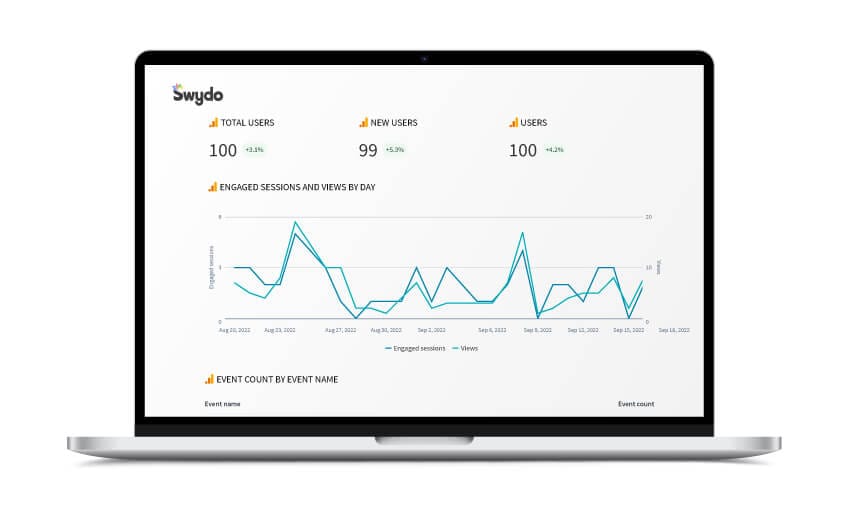 Use Swydo's pre-built GA4 reporting template to get insights on
Acquisition
Where do (active and new) users come from?
Sort by different sources and medium
Engagement
How do users engage, where, and for how long?
Sort by events, conversion events, page, URL, page title, views, and engaged sessions by page title
Monetization
How much revenue is generated?
Sort by product name, category, promotion, first purchasers, etc
Retention
How does our website/app retain users?
Sort by a 1-day active user, 7-day active user, 28-day active user
Demographics
Which country/territory do total users come from?
What is the gender and age distribution?
Tech
What kind of devices do users access my property from?
How do they engage, and for how long?
Which browser/operation system/app do they use?
Which versions/mobile devices, branding/mobile device model, etc., do they use?
What is the stability of my app? What's the number of crash-affected users and crash-free user rate?
As Google continues releasing new fields and features, we will continue to update them within Swydo.
Other GA4 metrics available include
Average engagement time
Views per user
Unique user scrolls
DAU/MAU – Daily Active Users Per Monthly Active Users
DAU/WAU – Daily Active Users Per Weekly Active Users
WAU/MAU – Weekly Active Users Per Monthly Active Users
Dimensions such as first user campaign, first user Google Ads ad group name
Conversion event filter Purchase and Generate lead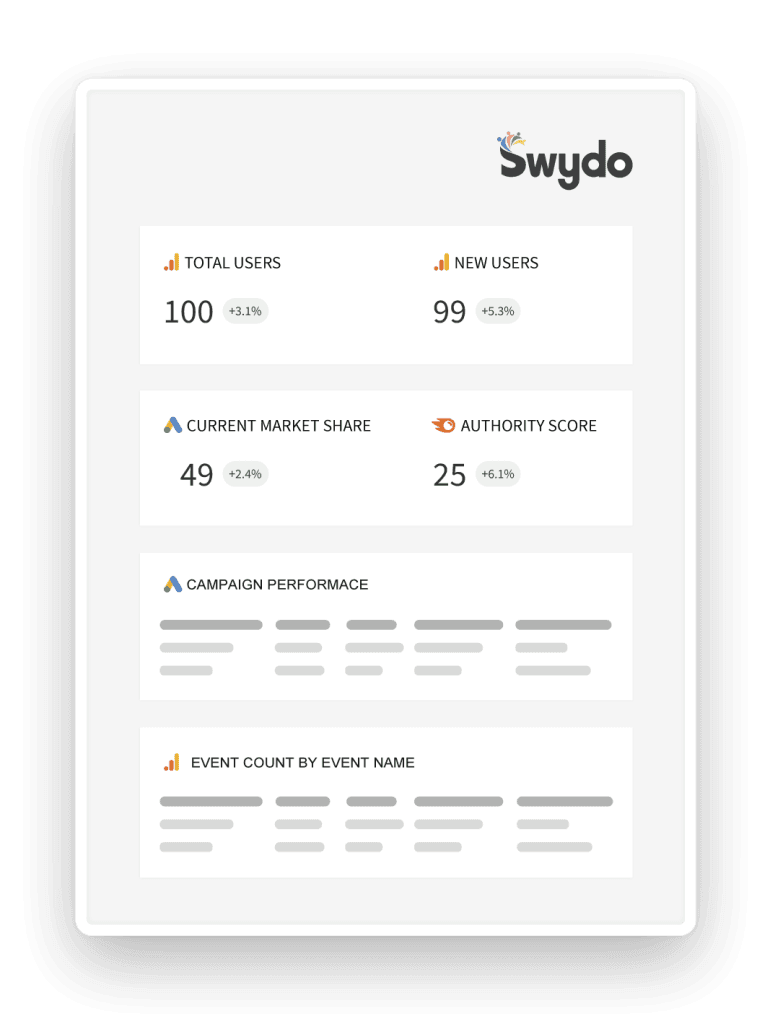 UA to GA4 – Getting the best of both worlds
We understand that migration from UA to GA4 has been challenging for most of us. Swydo is offering both integrations and appropriate templates to facilitate reporting on both UA and GA4. This means our clients can include both their UA and GA4 properties together in one Swydo report via separate pre-built widgets and customize it the way they want.
All your GA4 marketing insights in one holistic report with Swydo
Stay on top of the most important metrics that drive your business. With Swydo's GA4 integration you can now showcase your most important website and app analytics in a holistic report or dashboard.
Use our dynamic reporting templates (including one specifically for GA4) to save time making changes across multiple clients, and focus that time save on analyzing and optimizing marketing results. Schedule reports and dashboards in advance and have them automatically sent weekly, monthly, or whenever you want.
Swydo's customization and custom metrics options allow you to tailor your report the way you want – and focus on metrics that matter. You can also set specific goals and visualize them for each of your KPI values and track performance over time to ensure you are achieving your goals.
Maintain your brand consistency and strengthen your brand visibility through Swydo's brand templates and white label feature. Change the font, colors, logos, images, and text to your reports and share them via your own company domain.
Want to start building your first custom GA4 report?
Once you've connected your Google Analytics 4 account to Swydo, you can include essential GA4 metrics with data from 30+ other marketing channels to get a comprehensive look at your marketing efforts in one automated report or dashboard. Set up your free 14-day trial, and start building your first GA4 report today! Need help? Visit our help center, contact us through in-app text, or email support@swydo.com. Or schedule a demo.
The first steps to your GA4 Migration
Need help getting started with your GA4 migration? Here's a checklist by Marketing Mojo to begin ➡️ ➡️