Change is the one constant for digital marketers. Change in search engine algorithms. Change in ad options and targeting. Changes brought on by machine learning tools. It's that last topic that Push CEO Ricky Solanki names as one of the biggest challenges in PPC management at the moment. He'll share how his organization has worked around Google and Facebook's "enhancements" to improve ecommerce campaign success, as well as his tips for being more productive, insights into industry trends and more.

How would you describe your company in less than 100 words?

Push is a digital advertising agency who specialises in advertising on Google, Bing, Facebook and Instagram. We also provide other services like landing pages, website development and SEO. Our mission is to help businesses – primarily e-commerce – grow through paid digital advertising while we build the advertising agency of the future globally. No agency in Europe has won more Google awards than Push. We were recently crowned as the best Premier Partner in EMEA for Growing Business Online.
What is one strategy that has helped you grow your business? Please explain how.

We started the business in 2007 and back then most agencies would offer multiple services but in 2012 we pivoted the business to be a PPC focused agency. It was what we were best at and what customers would come back to us for. What we didn't know then was just how complicated paid search would become but having the one focus meant we were able to develop a company with deep knowledge around paid search.

What does your typical day look like and how do you make it productive?

I work away from the office 2 days a week to focus on the future and strategic planning. Having these days is key, as being in the office it is easy to get drawn into areas where my focus shouldn't be. When in the office I use the pomodoro technique (a 20 min timer) to get through tasks, but love the interaction with the wider team.

Besides acquiring new customers, what is the biggest challenge in growing your business?

Recruitment, recruitment, recruitment. The level of knowledge we train our team to means when we interview other experienced PPC account managers we often find they are not up to the standard we require. So we now have moved to 3 assessment days for graduates or those looking for a change in career. We look for bright people that will thrive in our culture. We start with an intensive 4 week training program involving everyone in the company then ongoing weekly company wide training.

What do you think is the most interesting trend in digital advertising now?

AI is interesting but I actually think ahead of this is the power battle between Facebook, Google and Amazon. If you look at Instagram's rise in Google trends you can see a shift happening. For us this means the average business is not clear where to put their advertising dollars. Many will be on the wrong platform and many will not have the right balance. A must for me is everyone having a presence and strategy across Google, YouTube, Bing, Facebook and Instagram. This applies for large and small businesses.

Do you see any trends specific to PPC reporting?

The monthly report has become less important and everyone wants real time data with explanations of why conversions have risen or decreased. Google have an interesting update called explanations we are looking forward to seeing.

How will these trends impact advertisers in the future?

Advertisers will expect to have campaigns deployed across multiple platforms and be able to easily see how they are performing on each and be able to move budgets around. It does mean advertisers need to almost think of having internal managers to ensure the organic content on each is up to date.

What are the biggest challenges you face in PPC campaign management?

There are many machine learning tools being released from Google and Facebook that are meant to improve experiences, but the downside is they take away the control businesses need from agencies like us.

The problem we see is if the machine starts to see something does not work it can start to kill it off. We see this with Google shopping from example. Google decides many products are not worth showing if the CTR is too low at the start.

As a result, we've built internal tools and strategies intended to take control back from the platforms. We have built a process to get these to reappear by identifying the products that no longer are being delivered and then starting new campaigns. We then set a bid strategy to push them in the auction and get them alive and kicking again. We have seen some large e-commerce sites double revenue with this strategy alone.

What are the top 5 tools or apps you use almost every day?

What was the worst job you ever had and what did you learn from it?

Working in the storeroom of a supermarket when I was 16. I used to have to work in the fridge and was always worried I would get locked in.
What people have influenced your thinking (and why) and might be of interest to others?

The journey of running the agency has taught me so much, and from reading Perry Marshall's first guide to AdWords along with Tim Ferriss 4 Hour Week my outlook on life and business is to be exceptional on the detail but have the time and space to not be consumed by it.

What is your favorite quote?

Everything should be made as simple as possible, but not simpler. – Albert Einstein
If you think about it this is the Google search engine. Just one search box on a page.

Where do you see your company in 5 years?

We are continuing our global expansion so we have recently opened an office in Romania, we are now servicing the Greek market as well so we see these as emerging markets where businesses are catching up a little bit to the mature UK market. These European markets are also less competitive, which means we can take the whole of our experience growing businesses in those markets by building successful campaigns, delivering good cost per lead and cost per sales.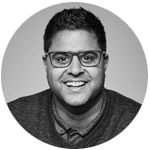 Bio:
Ricky Solanki is CEO of Push. This is how my colleagues describe me:

Ricky is one of our founders and is the fountain of knowledge in Push. Proficient in everything from PPC, Social, Scripts, AI to what makes a great website, he strives for innovation and excellence in all aspects of digital. He looks after the Push pet dog and for extra attention often brings her to the office. He has a twitter handle but doesn't use it so please contact him on LinkedIn.