Dynamic Search Ads in Google Adwords (DSA's) are part of Google Ad innovations. They are dynamically (yup) generated ads, based on your websites content. The dynamic part of the ad is the title and the destination URL. The ads have the following format:

The website content is derived from the Google search index. So for DSA's to run effectively it is a prerequisite that your site is well indexed from an SEO point of view.
Google say's DSA's are suitable when:"
Your website features different products or services.
You offer listings of services or products that change frequently.
You sell seasonal product lines or other offerings.".
DSA's can save you time, help you with relevancy and complement already crafted campaigns.
Some Adwords experts are nonetheless not that positive about DSA's .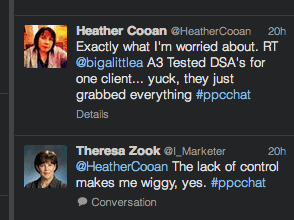 Things that are criticized a.o.:
– Wrong keyword triggering
– Lack of control
– No replacement for well setup manual campaigns
– You need to enter many negatives
– Higher cost per conversion
– Lower conversion rates
– Cannibalization from other campaigns
Now these experts are very savy and their experiments thorough, but nonetheless we see situations in which DSA can provide very successful campaigns:
When your page content follows a very strict structure in URL, Title, H1 and Content and is congruent with the real intent, product, service, e.g. is optimized for 1 keyword.
In B2B web shop situations. A B2B web shop has many products. To get all these products in Adwords manually is almost undoable. Product Listing Ads via a feed are not always an option, since the prices that are shown in the PLA's are including VAT (Only in the US you can omit this). The B2B buyer is used to see prices without VAT. You could get your feed into Adwords via other software solutions but DSA's can be a good alternative. All these hundreds of products are picked up automatically and put in an ad. What could you wish more?
Job openings/ Job portals. Let's say you have 34 job openings. One is fulfilled, another one is new etc. Why not let Google do the work for you.
In these situations you can see CTR's of 10 – 20%, high conversion rates and happy customers/bosses. Don't forget to pre-load your negatives , like, to name a few: "complaint, second hand, return", etc.
When DSA's wont work/ are not a good idea:
Blogs (people tend to use analogies, examples etc. that distract Google from the real subject of the page)
One-page or small websites (a lot of subjects on one page is like a lot of colors on a palette (remember that brownish color?)), and just make some very well set up campaigns manually.
B2C commerce site , Hey just use PLA's
Dynamic Search Ads are not an alternative / solution for the lazy PPC marketer, nor are they the holy grail, but can give a very good addition to manually crafted campaigns when prerequisites are met and other technologies (PLA, Feeds) are not available.
Jeroen Maljers