Mid-September thousands of digital marketers will descend upon the city of Brighton in the UK for the twice yearly industry event that is brightonSEO. We had the pleasure of connecting with several speakers for the conference, and will be sharing those interviews in the weeks leading up to the event.
Our first spotlight focuses on Kirk Williams, owner of PPC agency ZATO. Named by PPC Hero as one of the Top 25 Most Influential PPCers in the world for the past 3 years, Kirk generously shares his expertise regularly via articles, conferences, and as one of the hosts of Twitter's #PPCChat.
Update: Here's the link to Kirk's presentations at both brightonSEO and their niche event Search Advertising Show.
Can you give us a preview of what attendees will learn in your terrifically-titled session "I Don't Know How To Run Shopping Ads, And At This Point I'm Too Afraid To Ask"?
The title isn't a look into my own personal confessions, it's anticipating the ideal target audience for this session. I've found that a lot of people wish they knew more about Shopping Ads, even if they don't manage them all the time. This session is for anyone who wants a high level view of what Shopping Ads are, why feeds are so important, and how to think about building Shopping campaigns. It's a high level look at Shopping Ads so you understand things just a little better.
Have you participated in a brightonSEO event before?
No, I've heard so much about this conference from fellow speakers and I have great respect for the Kelvin and the brightonSEO organization and what they've accomplished!
What tips do you have for attendees to maximize their time on-site at brightonSEO?
Step out of your comfort zone (I'm an introvert too, so I get that it's hard to talk to strangers), and get to know the people around you. You never know what random conversation you have will contain the most important nugget of truth you take away from the event.
Other than your own session, what presentations are you most interested in attending and why?
I like to see presentations by people that teach me things I didn't know, specifically in other digital marketing realms like Email Marketing, and Local SEO, and Social Media.
What do you think is the most interesting trend in digital advertising now?
I'm the most interested in watching how all of this data being gathered and used will eventually be controlled. As a marketer, I love having relevant data to form amazingly accurate audiences for targeting them with ads… however as a consumer, I'm alarmed by how easy it is for that data to be used against me (or against society). It will be fascinating to see how more things like GDPR eventually get implemented and how they are monitored.
What are the top 5 tools or apps you use almost every day?
What was the worst job you ever had and what did you learn from it?
I've never had a truly terrible job, but believe it or not the job I personally hated the most was when I was a waiter/server at a local cafe in small town Wisconsin during high school. As (1) an introvert, and (2) a people-pleaser this job was a nightmare as you (1) always have to talk to people whether you feel like it or not, and (2) can never please everyone! In that regard, however, it was exceptionally helpful for me in growing my customer service skills and general people skills… especially with unhappy patrons who don't want their over-cooked meat!
What people have influenced your thinking (and why) and might be of interest to others?
The person who has most influenced my thinking is Jesus, as I have done quite a bit of study on his life and try to follow his teaching in my personal and business life (things like the Golden Rule, "do unto others as you would have them do unto you."). In terms of strictly business, I've been influenced heavily by the writing of Jim Collins and Dale Carnegie.
What is your favorite quote?
In the business world, it is: "get the right people on the bus" (or variations of it) by Jim Collins in his book, Good to Great. When I think of this quote, I think of companies who try to hire cheaply to save a buck, but then can never seem to do amazing things like other companies who are more concerned about hiring the best employees no matter the cost. There are other ways this quote can be fleshed out as well, the core meaning though being that the right people will do amazing things together as a team, and the wrong people can really sink the ship.
What advice would you give yourself when you first got started in digital advertising?
Be more process centered, think of ways to get repeatable things into tasks that can be easily replicated by others. I've been pushing to do this more internally, but wish I had started it earlier.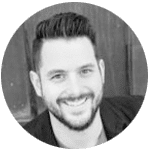 BIO:
Kirk is the owner of ZATO, his Paid Search PPC micro-agency of experts, and has been working in Digital Marketing since 2009. He has been named one of the Top 25 Most Influential PPCers in the world by PPC Hero for 3 years in a row, and has written articles for many industry publications. He is one of the hosts of the weekly #PPCChat on Twitter, as well as an avid conference speaker.