Today we released a new integration of Swydo with Google Analytics. Now you can integrate data from Analytics within Swydo in a special new tab : Online Marketing.
All you need to do is list the website you want to include and make sure your Google Account has access. Of course your clients, who have access to their Swydo sub-environment, can also see the statistics (when their Google Account has access to the analytics profile).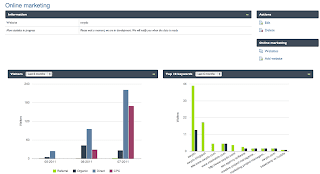 We see that is can be vary handy to report the most important statistics and the relevant tasks you have performed all in one overview. For some customers at management level The Google Analytics interface is too detailed. Within Swydo you can provide them an all in one interface.
Please try it and let us know what you think.
Best regards,
Jeroen