rankingCheck.de review of Swydo
Written by Nick Zwar on the 22nd of October 2014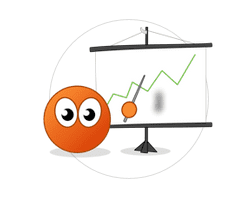 Most SEA account managers spend quite a lot of time and effort each month on making a monthly reporting for their clients. Depending on the agreed KPI's and data sources, this can take a lot of time. Especially when the procedure hasn't been partly automated.

Time is money said Benjamin Franklin once (to be more precise in the 1748 "Advice to a young tradesmen, written by an Old One"). And because Benjamin Franklin's face is smiling at everyone holding an American hundred dollar note, this could be true.
In any case, it makes sense to use time wisely. Nothing against making Excel tables work or hour-long formatting orgies – who doesn't like them? But admitted, the perspective of having more time for optimizing client campaigns by minimizing the monthly client reporting to just 5 minutes, seems pretty charming, does it not?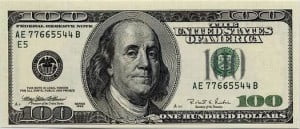 To create a SEA reporting in just 5 minutes is the promise of Swydo, an Agency management Tool from the Netherlands. Swydo stands for "Show what you do online" And indeed: Presentable Online marketing reports can be produced with this tool quick and easy. Because of that we will cut to the chase today and show you how to get in 5 steps to that SEA report in 5 minutes.
Step 1: Login with Swydo
Swydo not immodestly presents itself as the "best reporting and project management tool for Online marketeers". But the tool is not only useful, but also can be handled intuitively (which is not evidently so with SEA tools). If you login with the Google Login of your MCC you immediately have access to all Adwords account in it.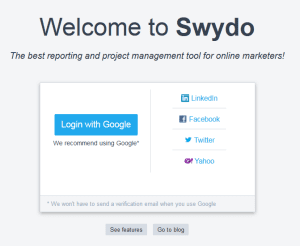 Swydo only exists in the English language so far, but the surface is so clean, that this shouldn't pose a problem. The menu gives access to reports, clients, projects or tasks.
Step 2: Report creation
To create a report you first have to give it a name. Afterwards you choose from a number of options, the sources and data you want summarized. PPC sources can be Google AdWords, Bing, Facebook for example.
In each of these sources, there are a number of widgets, whose content can be adjusted. Widgets would be "campaign performance" or "returning versus new visitors". Various Widgets can be added in just a couple of mouse clicks into your own report.
Step 3: Chose Widgets and configure report
The widgets can be manually configured and changed. Filters allow for concentration on selected campaigns. Practical, for example when you need a remarketing report. It makes sense at the beginning to just try out a lot of widgets, add them, delete them, configure until the report is the way you want it.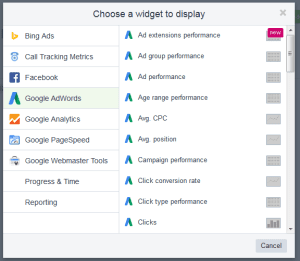 Step 4: create PDF and send Report
Once the report has been completed, you can do two things. For one: you can create a chique pdf (of course with the title page in your own Corporate Identity). The second option is to create the report as a a permanent project. Thus you can summon the report each month (also with different timeframes) and it can if desired be emailed to the client directly from Swydo. Most widgets possess an empty field for commentary, so that specific trends or events can be mentioned in the report. This is really handy.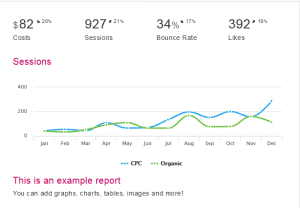 Step 5: Use freed up time useful
Report sent, task completed. Swydo can be used freely with a couple of exceptions. For a trial it is quite sufficient. The functionality is being expanded regularly. User input is welcomed by the developers is our experience. The monthly SEA reporting can be done a lot quicker and as an account manager you can use that time for more important tasks, such as optimizing and analysing campaigns or for writing a blog article. What would you do with the time you won? Please let us know.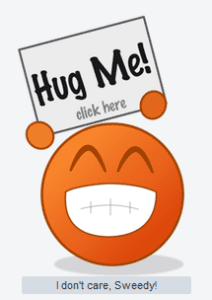 Written by Nick Zwar


Nick Zwar is the Head of Campaign Managment at rankingCHECK as well as certified Google AdWords Seminar Leader and regularly leads SEA Seminars and trainings.