New Semrush integration allows users to incorporate SEO and competitive analysis into Swydo reports; key step in goal to expand partnerships with industry leading platforms.
Hilversum, The Netherlands – December 9, 2021. Swydo, a global leader for custom digital marketing reports, dashboards and data visualizations, today announced a new integration with Semrush, a leading online visibility management platform. The integration enables Swydo customers to combine SEO and competitive analysis data from Semrush with other third party marketing data into one comprehensive report making it easier to uncover insights that lead to improved marketing performance.
Swydo helps marketers from digital agencies and brands save time and scale their reporting process by automating report generation and delivery. Semrush offers tools for SEO, content marketing, PPC, social media and competitor research that helps marketers attract and grow their online audience. The new integration is available to customers using both platforms.
"Moving forward to providing Semrush convenience to all marketers of the world, we made it possible to get our data in Swydo," said Eugene Levin, Chief Strategy Officer for Semrush. "This reporting and monitoring platform is built to automate these processes while making them scalable. A time-saving potential is now hard to beat."
The Semrush integration expands the reporting capabilities of Swydo customers to include SEO and competitive analysis along with campaign data from leading marketing platforms including Google Ads, HubSpot, Facebook Ads, Salesforce and more. By incorporating the most important business metrics in one report or dashboard, marketers can easily track performance, set and monitor goals, and get a comprehensive look at results, budgets and opportunities.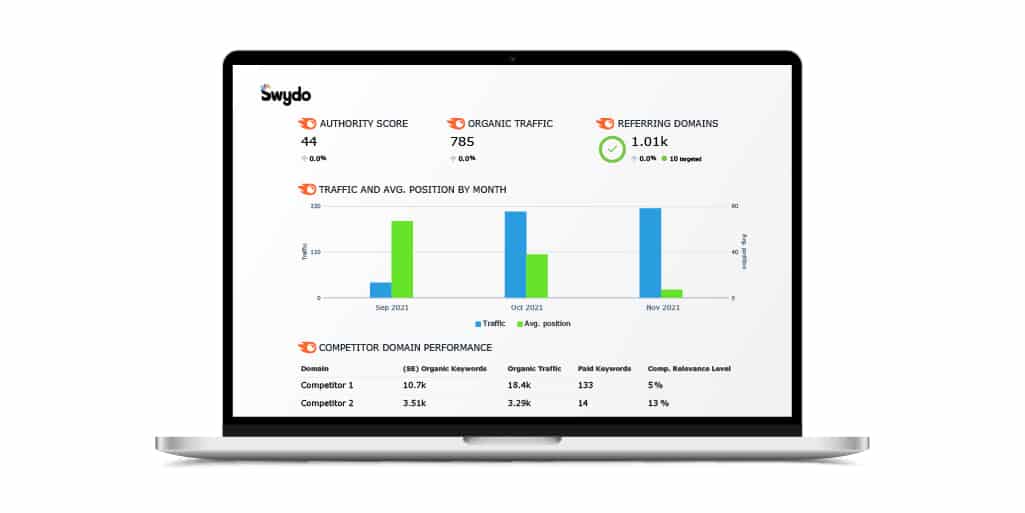 "Both companies are dedicated to helping online marketers to increase efficiency, provide insights and improve results. We were pleased to work with Semrush on this integration as it will empower our customers to incorporate their SEO and competitive data in their reports and provide a comprehensive look at performance" said Jeroen Maljers, Swydo Co-founder. "We look forward to expanding our partnerships to include other industry leading third party platforms that will bring more value for our customers and those of our partners.
Additional Resources
About Swydo
Swydo helps digital agencies and brands successfully communicate marketing campaign results and insights while maximizing efficiencies. The reporting and monitoring platform allows users to create professional, customizable marketing reports, dashboards and data visualizations to track performance and gain actionable insights. Swydo makes it easy to automate report generation and distribution, saving marketers time to focus on optimizing budgets and growing their business. Known for its ease of use and reliability, the Netherlands based company services thousands of customers in over 80 countries around the globe.
About Semrush
Semrush is a leading online visibility management SaaS platform that enables businesses globally to run search engine optimization, pay-per-click, content, social media and competitive research campaigns and get measurable results from online marketing. Semrush offers insights and solutions for companies to build, manage and measure campaigns across various marketing channels. Semrush, with over 76,000 paying customers, is headquartered in Boston and has offices in Philadelphia, Dallas, Prague, St. Petersburg, Warsaw and Limassol.
Media contact
Jeroen Maljers
jeroen@swydo.com
+1 917 464 2535 (CEST)