Swydo, your online marketing reporting and workflow tool, now has a very valuable new feature.
The Adwords widgets that you can use for your dashboard and/or reports can now be applied to individual campaigns. This was a much requested feature.
Most widgets now have 4 options: Search & Display, Display, Search and Custom.


With 'Custom selection' you can choose individual Adwords campaigns. This feature is very useful in different scenario's, for instance when there are several websites that are promoted with one Adwords account and you only want to report one property. Or you only want to report a remarketing campaign. There are endless options and scenarios where this comes in handy.
The three types of campaigns (Search, Display or Mixed (Search & Display) can then be selected or de-selected.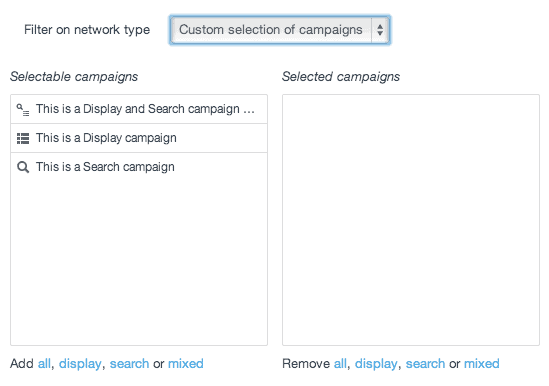 Please check this new feature now in your Swydo