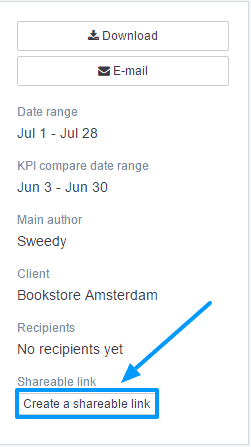 Share your reports via a public URL! Yes, now the imagination comes into the possibility and it's helpful if you want to share the report with a colleague or if you just want to send the report to your client by using a public URL.
You can send any report to your clients by shareable public URL.
You can share the URL by
Email
Any social or team chat.
Share it in your CRM
Share it anywhere!
Remember, because the URLs are public, they are visible by anyone. By sharing the link with the report, it's available for the same person to share it again. There's no verification needed to enter the report.
You have made a nice report with abundant widgets & KPIs in it and convert that into a PDF format. Now, if you want to send this report by using shareable URLs you can make this happen.  Look how to do this.
With a bunch of new features and added flexibility now you have the option to customize the report sending pattern. Sharing a report was never so easy! You just need to follow some basic simple steps:
    Create your first shareable URL by going into any report in your Swydo account
    Create a PDF or open an existing PDF file
    Click on  "Create Shareable link" on the right side panel.
    Copy the link and start sharing your report!
We always appreciate feedback coming from our readers and customers. Let us know what you think about this new feature and new flexibility of report sharing. Any tips on improving these features will be highly appreciated. We love to hear them.