With Swydo's Semrush integration, you can now take a comprehensive approach to your marketing analytics. This integration allows users to automate their reporting process and incorporate SEO and competitive analysis data they generate through Semrush into their Swydo reports and dashboards.
Leverage the Swydo/Semrush integration to:
Combine marketing data from multiple platforms into one report/dashboard
Monitor search rankings over time, and compare performance against competitors
Discover opportunities to improve backlinks
Optimize content and paid ads for the best keywords to increase website traffic
Set goals, track performance, and gain insights to drive traffic and conversions
Include site audit data to make a holistic website site health report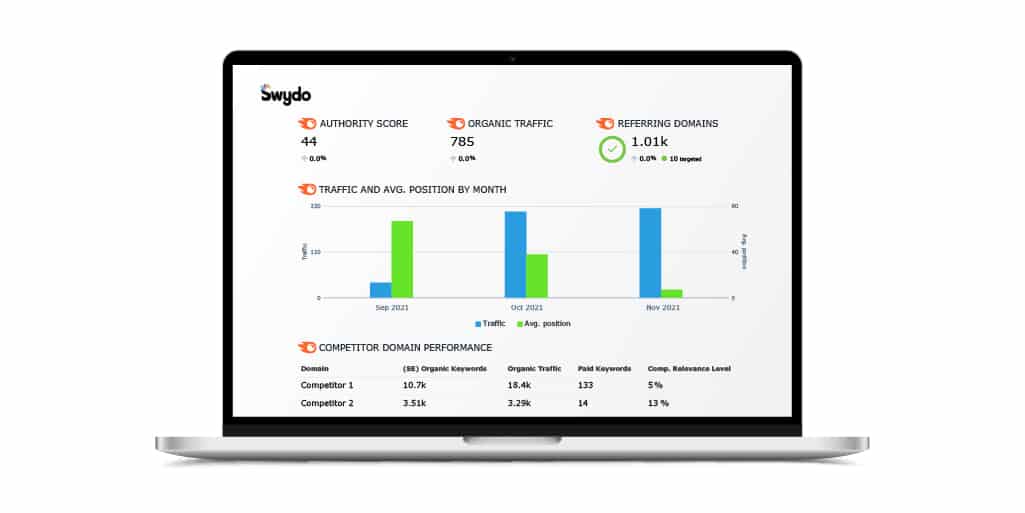 Semrush tools and metrics included in Swydo integration
Have an eye for detail (Domain Organic)
Get a complete picture of your website's online presence. You can get a quick overview of your organic keywords, organic traffic, and paid keywords and then delve deeper by analyzing your keyword performance over time using the keyword performance table.
Keep ahead of the competition (Competitor analysis)
You can get a better understanding of your share of voice in the market and stay ahead of the competition. Make data-driven decisions with a comprehensive competitor analysis performance table and evaluate organic traffic by each domain. Understand your competitor's SEO to make yours better.
Stay on the right track (Tracking position)
Being ahead of the competition means evaluating and reevaluating your position in the market. You can analyze which top 10 keyword phrases drive traffic to your landing page and also create an improvements table to see where you can fill in the gaps.
Look at the big picture (Site Audit)
Make a holistic SEO report in Swydo. Swydo is the only third-party reporting tool that currently has access to Semrush's site audit data. Report and monitor the health of your website and track your core web vitals, site performance, warnings, errors, and much more. Find where your website is struggling and take action to fix it.
We got your back (Backlinks)
Analyze your high-quality backlinks and help search engines understand your worth. Easily track and compare your url performance and learn where your backlinks come from.
The data categories available in the Semrush integration include:
Backlinks
Backlinks Overview
Site Audit Data
Competitors Organic Overview
Domain Organic Overview
Domain Overview
Keyword Difficulty
Keyword Overview
Organic Research
Tracking Overview Organic
Tracking Position Organic
Tracking Visibility Organic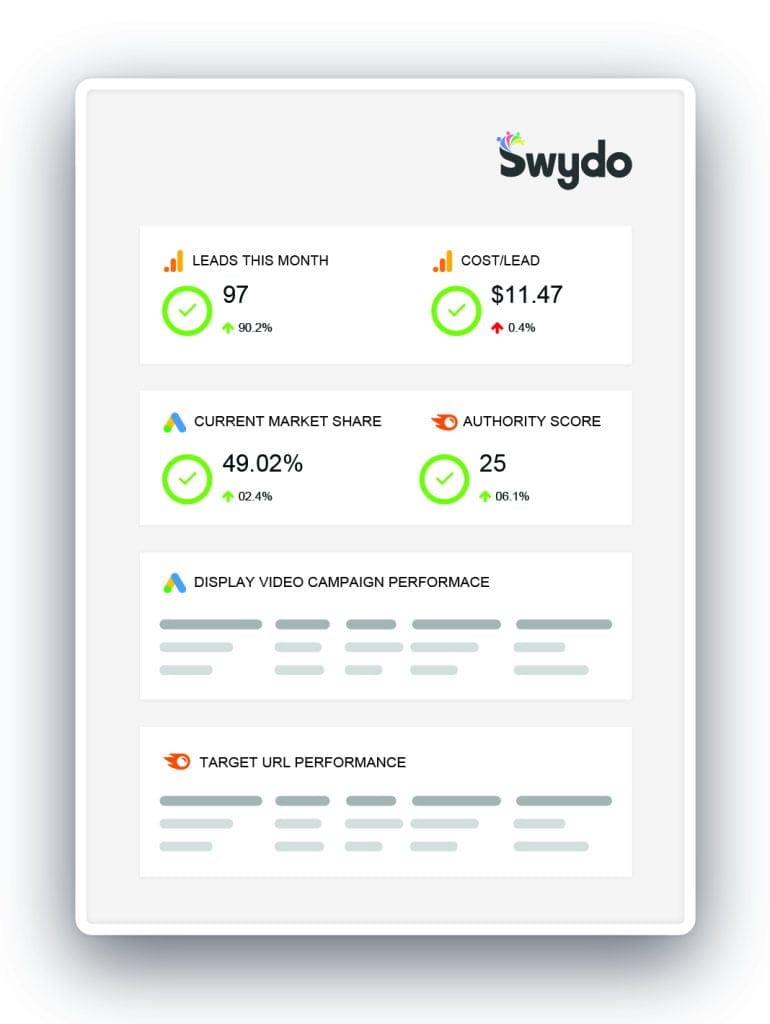 Make data-driven decisions with Semrush and Swydo
Connect your Semrush account with Swydo to include Semrush marketing competitive analysis data in one automated report or dashboard together with all your other important marketing metrics – like HubSpot, Google Ads, and Facebook data. You can choose from our 30+ available data integrations. Get a comprehensive look at results, spends, and opportunities. Use our pre-built Semrush widgets and metrics or build your own widgets from scratch.
Once you've added the Semrush data source to your account, you can start building a new report or dashboard by adding KPIs and widgets to your reports. Here's how to add Semrush data to a report. Our dynamic report templates are a proven time-saving solution for Swydo users. They can be used across multiple clients. Use the saved time to analyze and optimize ROI and results.
What's more? Schedule your reports and dashboards in advance and have them sent weekly, monthly, or whenever you want. Track progress and see if you are achieving your goal(s) by setting specific targets in Swydo and visualize them for each of your KPI values.
Swydo's customization and custom metrics options allow you to tailor your report the way you want and talk only about metrics that matter. With our brand templates and white label features, you can maintain your brand consistency and strengthen your brand visibility. Add your own logos and brand colors to the report design and share them using your own company url.
Next Steps
Learn more about the new Semrush integration and how you can use it to track performance, improve your actionable insights and take steps to boost your marketing results across all the platforms you leverage.
If you already have an account with Swydo and Semrush:
It takes just a few minutes to connect your Semrush account and start reporting. Follow these instructions to set up your Semrush data connection in Swydo.
Once you've added the Semrush data source to your account, you can start building a new report or adding KPIs and widgets to existing reports. Here's how to add Semrush data to a report.
Not yet a Swydo customer?
Set up your free 14-day trial, and start building your first report leveraging over 30 pre-built integrations. Easily select the most important KPIs and metrics, as well as the best data visualizations to present your data in your report or dashboard. Need help? Visit our help center, contact us through in-app text or email support@swydo.com. Or schedule a demo.
New to Semrush?
Learn more about the tools they offer, and set up an account, and test it for free.