The Swydo team is pleased to announce a new integration – online visibility management platform Semrush. This integration allows users to incorporate SEO and competitive analysis data they generate through Semrush into their Swydo reports and dashboards for better data decision making that leads to improved marketing performance.
Track Performance, Analyze Your Competitors And Find Opportunities
Semrush enables marketers to run search engine optimization, pay-per-click, content, social media and competitive research campaigns and get measurable results from online marketing.
Users can leverage the Swydo/Semrush integration to:
Combine marketing data from multiple platforms into one report/dashboard.
Monitor search rankings over time, and compare performance against competitors.
Discover opportunities to improve backlinks.
Optimize content and paid ads for the best keywords to increase website traffic.
Set goals, track performance and gain insights to drive traffic and conversions.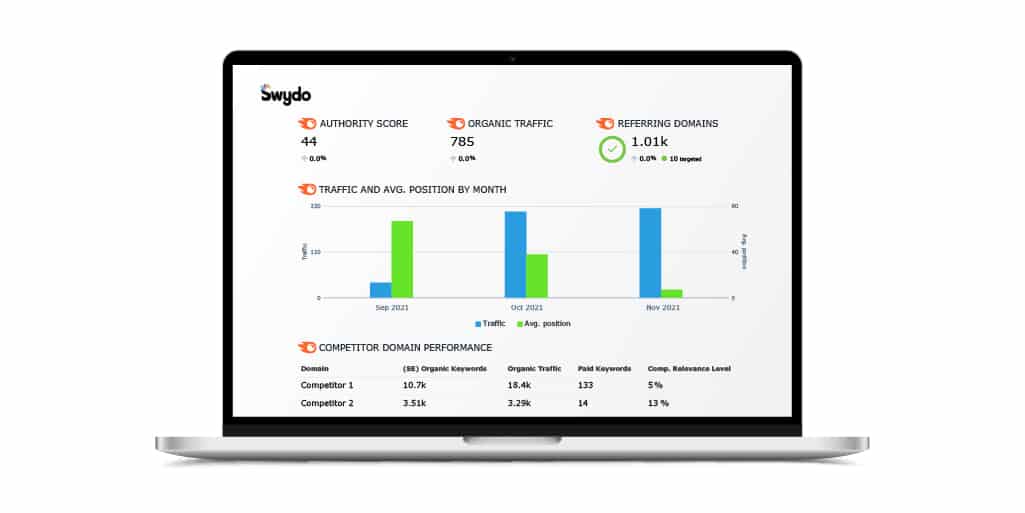 Semrush Tools And Metrics Included In Current Integration
Customers can use this new integration to combine Semrush marketing competitive analysis with other marketing data – like HubSpot, Google Ads, Facebook – through Swydo for a comprehensive look at results, budgets and opportunities.
The integration provides access to data for following Semrush tools:
Backlink Analytics – analyze your backlink profile, discover new backlink, track your competitors and find new opportunities.
Organic Research – evaluate your competitors' organic keyword rankings and pages to optimize your own strategy.
Domain Overview – uncover the rankings of your competitors and potential customers.
KMT (Keyword Magic Tool) – research and generate thousands of keyword combinations with this 20 billion keyword database.
Keyword Overview – determine the value of any organic or advertising keyword based upon search volume, CPC, number of results and more.
Position Tracking – track your domains, keywords and those of your competitors to optimize your campaigns and fix any cannibalization.
The data categories available in the Semrush integration include:
Backlinks
Backlinks Overview
Competitors Organic Overview
Domain Organic Overview
Domain Overview
Keyword Difficulty
Keyword Overview
Organic Research
Tracking Overview Organic
Tracking Position Organic
Tracking Visibility Organic
Next Steps
Learn more about the new Semrush integration and how you can use it to track performance, improve your actionable insights and take steps to boost your marketing results across all the platforms you leverage.
If you already have an account with Swydo and Semrush:
It takes just a few minutes to connect your Semrush account and start reporting. Follow these instructions to set up your Semrush data connection in Swydo.
Once you've added the Semrush data source to your account, you can start building a new report or adding KPIs and widgets to existing reports. Here's how to add Semrush data to a report.
Not yet a Swydo customer?
Set up your free 14-day trial, and start building your first report leveraging over 30 pre-built integrations. Easily select the most important KPIs and metrics, as well as the best data visualizations to present your data in your report or dashboard. Need help? Visit our help center, contact us through in-app text or email support@swydo.com. Or schedule a demo.
New to Semrush?
Learn more about the tools they offer, and set up an account and test it for free.