Our dev team continues to make improvements to the Swydo platform, adding both Twitter and CallRail as our latest data source integrations! Keep reading to get the details.
Predefined widgets to save you time
We've included a number of predefined widgets unique to Twitter and to CallRail to incorporate into your reports, translating into report creation that takes just minutes. You'll be able to alter their settings at any time to show the data you need to share with your clients. Check out the screenshots below.
Twitter widgets – 18 in all!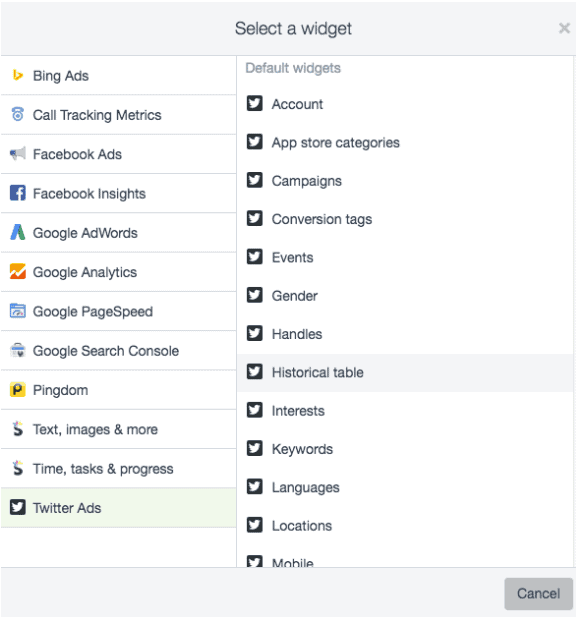 CallRail widgets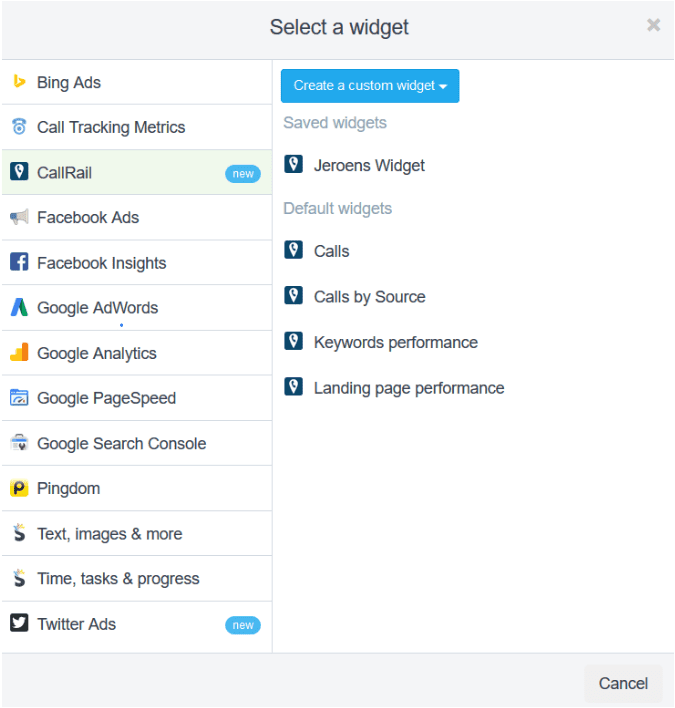 Custom widgets to meet your data needs
Don't see a widget already created that your clients require? You can easily create a widget from scratch, and save it as part of your template to use again and for other clients.
When selecting a Twitter or CallRail widget to add to your report, you will also notice a blue button at the top of the widget selector. Just click and create! Each of the categories shown have different options (metrics, dimensions, filters, etc.) available, so you have maximum flexibility to create a report that accurately tells the data story you are building for your clients.
In addition to predefined and custom widgets for Twitter Ads and CallRail, you have the opportunity to set up custom KPIs by client to track the success of their campaigns and website.
Bonus! Custom Report Covers
In addition to reporting functionality, we also understand the importance of ensuring your reports look professional. Our latest improvement – you can customize the cover page of your branded PDF reports with an image of your choice.
If you have any questions or feedback on these updates please let us know!