We are pleased to announce Swydo's latest data source integration – LinkedIn Ads. Keep reading to learn more about this new development.
Expanded Social Advertising Reporting Capabilities
Easily track impressions, clicks, CTR, conversion rate and more to help your clients gain insights into their investment, impact and return on LinkedIn advertising campaigns. With this new data source integration, you can now report across the four main social media advertising networks of LinkedIn, Facebook, Instagram and Twitter.
Pre-built Widgets And KPIs Save Time
All Swydo integrations incorporate default widgets and KPIs to make report creation easy and quick. Once you connect a LinkedIn ad account with Swydo, you'll have access to 15 pre-built widgets and 9 KPIs to start your report creation.

Monitor Your Own Custom Metrics
You also have the flexibility to create your own widgets and KPIs to match the information needs of your clients. With well over 30 conversion and performance metrics, and multiple dimension options to help you dig into the data, you can build a comprehensive report that tracks progress over time and provides the insights needed to optimize campaign results. And with easy to use dropdowns, custom reporting has never been so easy.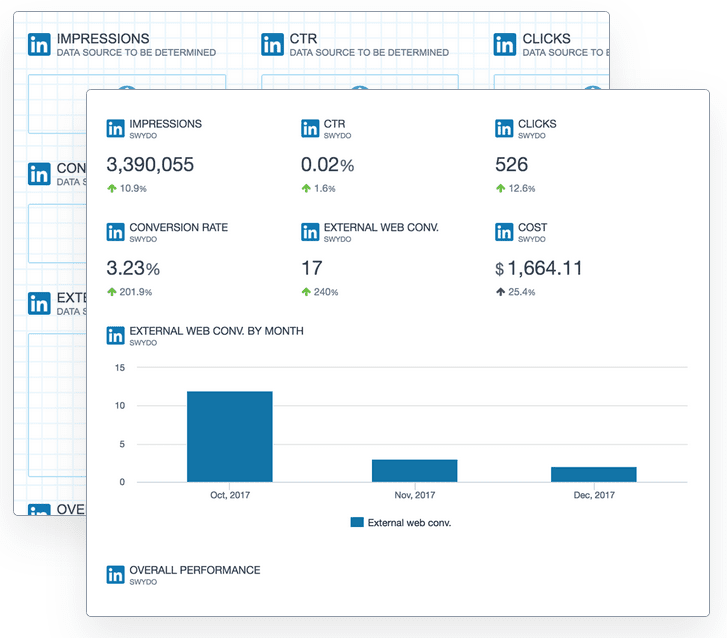 Give our new LinkedIn Ads integration a spin, and let us know if you have any feedback or questions! Not yet a Swydo customer? Learn more about the integration and take advantage of our free trial.