Do you want to spend endless hours sifting through heaps of marketing data, struggling to create comprehensive reports that genuinely convey your efforts? Probably not.
In a world where data reigns supreme, it is essential to have the right tools to harness its power. And creating comprehensive marketing reports can be a daunting task. This guide will compare Swydo and Agency Analytics to assist you in selecting the most suitable marketing monitoring and reporting tool for your client report requirements.
Swydo stands out in the Swydo vs. AgencyAnalytics battle with its one-stop-shop solution. Its ability to link and edit reports simultaneously makes data management more efficient. Cross-channel monitoring allows marketers to track diverse campaign metrics from one vantage point. In contrast, Agency Analytics offers advanced SEO reporting functions.
Swydo's versatility includes access to advanced tool features without the overhead of multiple dashboards. Digital marketing agencies love the white-label customization that Swydo offers, which is more flexible than what Agency Analytics provides at a premium. Also, Swydo's monitoring tool gives a holistic view of client campaigns, making it a reliable, efficient, and flexible reporting solution that doesn't burn a hole in your pocket. Swydo's PPC integrations offer complete command over crucial metrics by providing the most up-to-date metrics and dimensions available.
Let's step into a world where time is saved, client management is simplified, and insights are quickly delivered.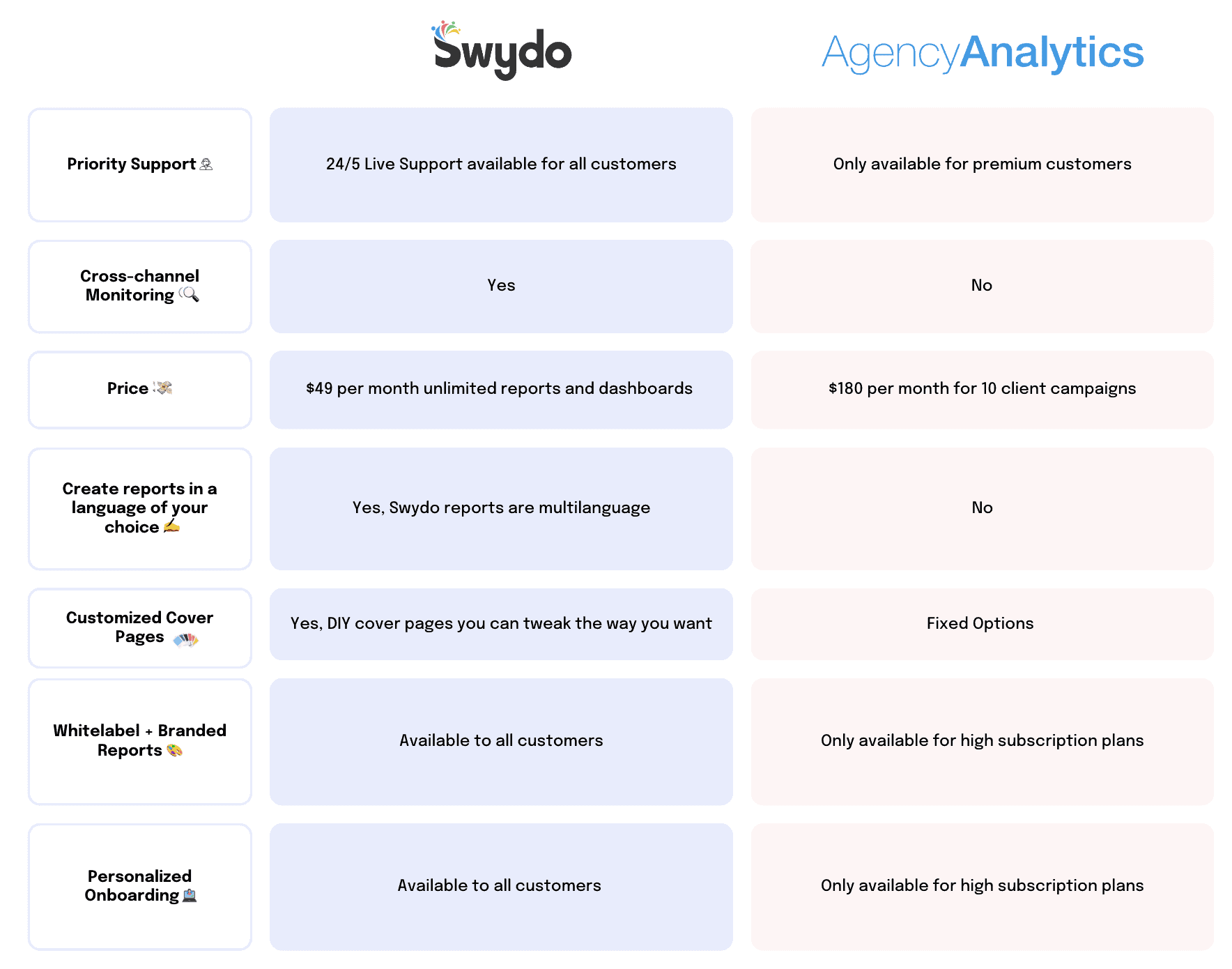 Swydo vs. Agency Analytics: Unique Points of Differentiation
Streamlined Reporting
As an agency or a freelancer, you don't have just one client. Therefore, you may have to spend hours managing multiple clients and creating reports individually. But not anymore. With Swydo, you can easily edit client reporting templates in batches, saving you time and effort. For instance, if you need to create a report for multiple clients, you can edit the template and generate reports for all clients simultaneously. This feature is beneficial for agencies or businesses that manage many clients. Plus, Swydo's simple and reliable interface makes the report creation process less daunting and more manageable.
An intuitive and polished user interface is crucial to any marketing reporting tool. Agency Analytics currently falls behind in this aspect, as highlighted by user reviews that mention its limitations, clunky navigation, and unattractive nature of its reports. Furthermore, the lack of customization options adds to the challenges users face aiming to enhance the tool's performance.
In-Depth And Up-To-Date Metrics
Are you tired of sorting through incomplete PPC reports? Swydo's integrations are thorough and include all the important metrics needed to create a data-driven client report. The integrations are updated regularly to reflect the latest API changes and are closely monitored to ensure they exceed the standard Conversions and ROI, Ad Spend, and other metrics. This allows you to analyze your data extensively and present your clients with a precise representation of their marketing efforts.
Unlimited Report Storage
Swydo offers limitless report storage, ensuring constant access to your historical data. Unlike Agency Analytics, which removes reports after 60 days, Swydo's unlimited storage guarantees your data remains intact. Effortlessly monitor past performance and long-term trends. Plus, with the ability to store unlimited reports, you'll never have to worry about hitting a limit or being forced to delete essential client data.
Cross-Channel Monitoring
Swydo's cross-channel monitoring and KPI tracking features are valuable for digital marketing agencies. With the ability to include metrics, set targets, and limits from various sources, agencies can easily create comprehensive overviews of their client's performance. This feature allows agencies to stay on top of their client's progress and optimize strategies accordingly. All of this unfolds seamlessly through a singular, user-friendly client monitoring interface, merely a click away.
Brand Customization
While users of Agency Analytics frequently convey dissatisfaction concerning the restricted array of branding choices, Swydo can generate tailored reports that accurately reflect your brand style. You can seamlessly integrate your brand's color palette into charts and even exercise creative freedom akin to Picasso when designing the cover page. Through Swydo's white-label reporting, your data reporting transcends mere information dissemination; it transforms into a platform for highlighting the core identity of your brand.
Personalized Onboarding
Swydo provides outstanding support at every juncture of your reporting experience, offering live chat customer assistance accessible 24/ 5. Our Free Reporting Service is adept at aiding you in refining report aesthetics, configuring account settings, and optimizing dashboard functionality. This is available to all our customers, regardless of their subscription tier. Notably, all customers receive comprehensive onboarding, an inclusive practice in stark contrast to Agency Analytics, where personalized onboarding is a privilege reserved solely for premium-paying users.
A Scaling Pricing Model
Swydo's pricing model is as dynamic as your needs. For $49 a month, you get unlimited access to all the features, unlimited clients and reports, integrations, and connections to 10 data sources. A simple model that scales with your reporting needs.
Whereas, Agency Analytics operates on a 'per campaign basis' pricing model, an approach that tailors costs to your campaign workload. For freelancers, the starter plan starts at $12/month per client campaign, requiring a commitment to a minimum of 5 client campaigns — which comes up to $60 per month with no access to white label features and custom metrics.
The agency plan, catering to broader needs, comes in at $18/month per client campaign, with a minimum purchase of 10 client campaigns, which comes up to $180 per month for access to most features, but priority support is available only for custom plans.
The "per-client model" approach is a double-edged sword. Providing tailored pricing could be too expensive if you want to expand your clientele in the long run. Check their pricing plan. 👇

Conclusion
In conclusion, when comparing Swydo and Agency Analytics, it's evident that both platforms are valuable marketing reporting and analytics tools, each with unique strengths and offerings. Swydo stands out for its versatility in catering to a wide range of marketing needs, providing an easy-to-scale, customizable reporting and monitoring tool across various marketing channels. Its extensive customization options allow users to create tailored reports that align with specific metrics and branding requirements.
On the other hand, Agency Analytics specializes in SEO reporting, offering in-depth insights and metrics geared explicitly towards search engine optimization strategies. Its unique SEO integrations provide valuable data for those prioritizing SEO efforts. While Agency Analytics also offers customization options, they are somewhat more limited than Swydo's extensive offerings.
Pricing models differ between the two platforms, with Swydo basing its pricing on data source usage and Agency Analytics offering tiered plans for client campaigns. The 'per client model' approach may have tailored pricing, but it could be financially burdensome if you aim to expand your client base from single to triple digits.
Both platforms provide customer support through various channels, including email assistance and knowledge bases. Swydo's additional live calls and personalized onboarding contribute to its reputation for responsive customer support.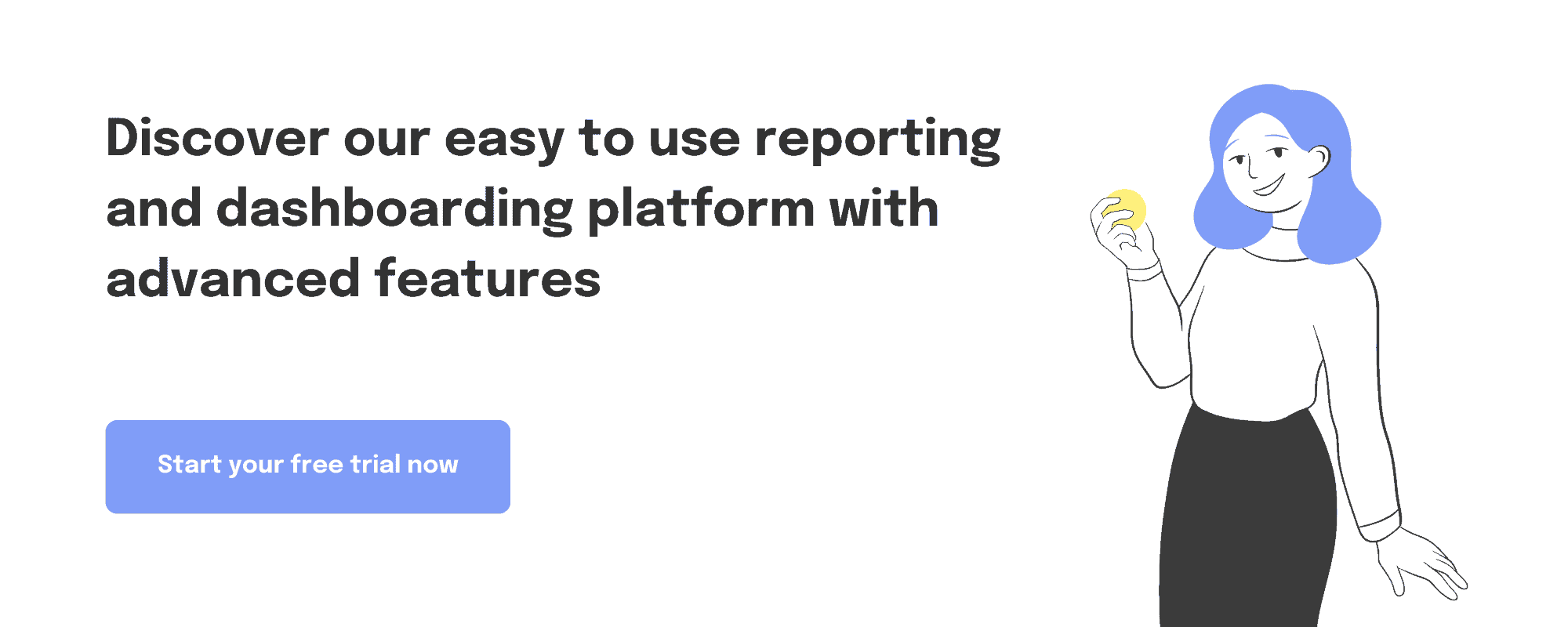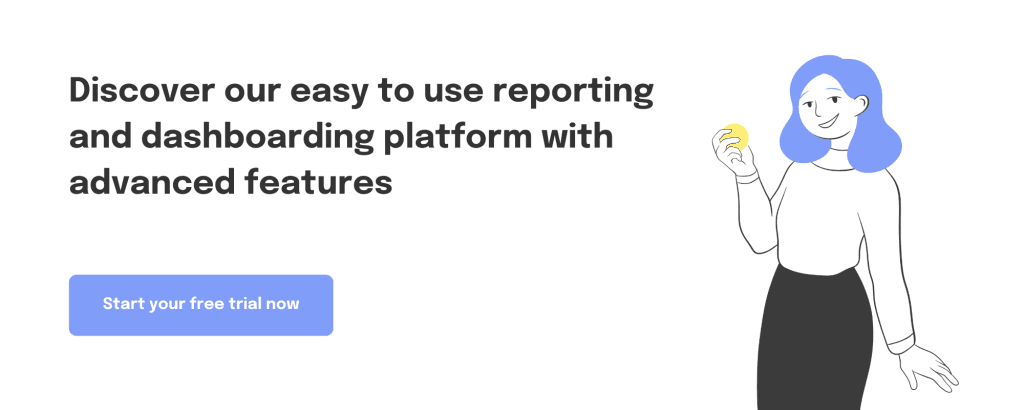 Ultimately, the choice between Swydo and Agency Analytics depends on the specific needs and priorities of freelancers or digital marketing agencies. If a comprehensive, customizable, and versatile marketing reporting tool is desired, Swydo appears to be a strong contender. However, for those focusing heavily on SEO reporting, Agency Analytics might offer a more tailored solution.
FAQs:
1. What are the key differences between Swydo and Agency Analytics?
Swydo and Agency Analytics are both marketing reporting and analytics platforms, but they differ in terms of features, integrations, pricing, and user experience. Swydo offers an easy-to-scale, simple reporting and monitoring tool across the marketing mix, whereas Agency Analytics offers specialized SEO reporting.
2. Which platform offers more customization options for reporting?
Swydo is known for its extensive customization options, allowing users to create tailored reports with specific metrics and branding. Agency Analytics also offers customization but to a somewhat lesser extent.
3. How do the pricing structures of Swydo and Agency Analytics compare?
Swydo and Agency Analytics have different pricing models. Swydo's pricing is based on the usage of a number of data sources, while Agency Analytics offers tiered plans for client campaigns.
4. Which platform provides better integration with third-party tools and platforms?
Swydo and Agency Analytics both offer integrations with various third-party tools and platforms, but Swydo is noted for its wide range of integrations, potentially offering more versatility. In comparison, Agency Analytics has special SEO integrations that come at a price.
5. Is there a significant variance in Swydo and Agency Analytics user interfaces?
Swydo and Agency Analytics have distinct user interfaces. Swydo emphasizes simplicity and ease of use, whereas Agency Analytics provides robust SEO reporting options that all may not use.
6. What level of customer support can users expect from Swydo and Agency Analytics?
Both Swydo and Agency Analytics offer customer support, including email assistance and knowledge bases. Swydo offers live calls and personalized onboarding. Swydo's support is often commended for its responsiveness, while Agency Analytics also provides reliable support via chat.